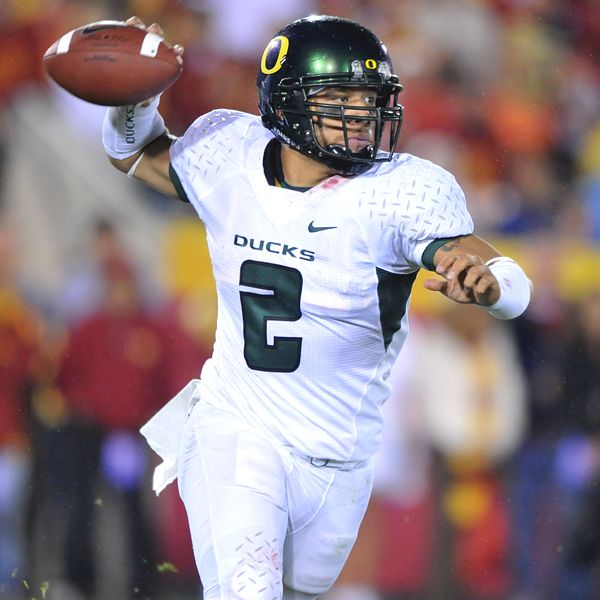 Oregon
fans have had the pleasure of watching some of the best college quarterbacks of their time. From Norm Van Bronklin to Dennis Dixon, Oregon has always seemed to have a pretty good leader under center. But the best may be yet to come.
Around one year ago, a quarterback from City College of San Francisco named Jeremiah Masoli sent in his letter of intent to Eugene. He was an afterthought since the Ducks had pulled in one of their best recruiting classes ever with two four-star quarterbacks.
Many saw the stats he put up at CCSF (3,065 yards and 26 TDs through the air) and attributed it to poor competition. But as a freshman in 2007, Masoli lead his team to a national title showing leadership skills that the Oregon coaches liked.
After visits to Auburn, Arkansas, and Arizona, Masoli chose Oregon. He entered the fall fifth on the depth chart; many expected him to redshirt.
But in the first game of the season against Washington, backup Justin Roper went down with a concussion opening the door for Masoli to play as Mike Bellotti did not want to burn the redshirt years of Darron Thomas and Chris Harper. Masoli played decently throughout the year, but struggled when he was forced to throw the ball more than run it.
You could see in his mannerisms that he was not comfortable with the offense or the speed of the game.
The turning point was a game against Stanford in Eugene. He started off the game very poorly, bouncing balls in front of his receivers. Oregon fans booed him in the first half as the Ducks struggled on a rainy day against the Cardinal. With about two minutes to go, Stanford took the lead.
It was now or never for Masoli.
He took the opportunity and ran with it, literally. He led the Ducks down the field, and on a frantic third-down-and-eight, he scampered 25 yards down inside the Stanford 10-yard line, setting up LaGarrette Blount's game-winning touchdown with three seconds left.
After that game he played with much more confidence as the Ducks went 4-0 to close the season including a victory over Oklahoma State in the Holiday Bowl. Masoli took part in four Oregon touchdowns and threw for 258 yards while running for 106.
But what makes Masoli fit the spread so well?
Unlike other spread quarterbacks around the country like Pat White of West Virginia or Matt Grothe of South Florida, Masoli is stocky. Masoli checks in at six feet, 208 pounds. He is the new hybrid of the spread quarterback. He has a rocket arm, above average speed, and great decision making.
With the amount of running in Chip Kelly's offense, he will hold up better because of his short, bulky stature. He may even take out a few defenders.
Duck fans should be very excited for the next two years with such a great signal-caller behind the center. It even has some fans whispering those two words that people outside of Florida, Texas, and USC rarely hear: national championship.