Since
Stanley Havili
became the starting fullback, USC has gone through four starting quarterbacks, two head coaches, a carousel of assistants, a couple of polar-opposite athletic directors and a mountain of pain handed down by the NCAA.
The fifth-year senior appears to be exactly what USC needs in these trying times: Someone the Trojans can depend on. Havili provides a vocal, trusted presence in the huddle, a dangerous outlet valve in the passing game and, lately, some punishing blocks to open running lanes.
"Stanley's a real cool guy. Everybody loves him on the team," tailback
Allen Bradford
said. "He's going to be
a real offensive leader this year."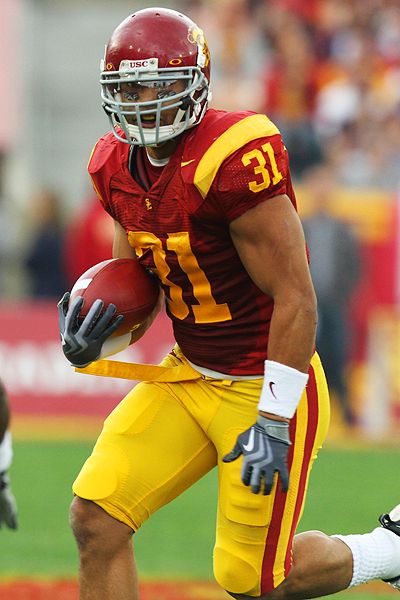 In intense team sports, it's impossible for outsiders to gauge quite how leadership works. When Havili broke freshman cornerback T.J. Bryant's cheekbone in a skirmish earlier this summer, some people viewed it as another example of the Trojans' football program coming apart at the seams. People on the team, however, saw it differently.
Havili is one of the few holdovers from the end of USC's golden era under Pete Carroll, when Rose Bowls and BCS title games were the objective. The fight between the two broke out because Havili was urging Bryant to finish the drill with maximum effort, to compete in the Trojan way. He was leading. And so coach Lane Kiffin suspended him for just one practice.
Havili will be the most experienced member of the offense Thursday at Aloha Stadium, when USC opens its season against Hawaii. "This is definitely the most excited I've ever been," Havili said. "The realization of this being my last year, the first year of Coach Kiffin just makes it a plus. I'm going out with the change of Trojan identity. It's a different leader now and guys have to buy in."
A lot is riding on Thursday's outcome for Havili, who is of Tongan descent and will have family members who live on the island at the game. Hawaii recruited him as a tailback five years ago, but Havili elected to go to USC, saying, "I always wanted to compete at the highest level."
A lot is riding on this season, because Havili has NFL aspirations and will need to prove he's a capable blocker in order to improve his draft stock. At 6-foot-1, 225 pounds, he's a bit light for a fullback. New running backs coach Kennedy Pola is teaching him to make up for his size with solid technique.
"Our focus is on knowledge," Havili said.
Full Article