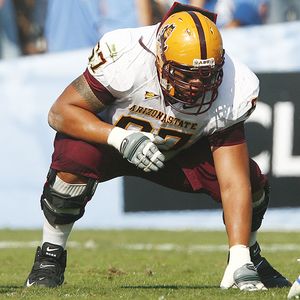 Arizona State
fans don't need to worry about
Sun Devils offensive tackle Shawn Lauvao
spending so much of his time this summer mentoring young people. He's not going to fall behind in the weight room for any reason.
Unless you think a 500 pound bench press and 675 pound squat is falling behind.
While Lauvao did work at a Fellowship of Christian Athletes sports camp in Flagstaff, Ariz., and an Athletes in Action camp on the campus of Colorado State, he still made his 6 a.m. workouts with the rest of the Sun Devils offensive line.
That maligned unit, which has struggled the past two seasons, decided that joint early workouts would build camaraderie. He and the rest of the Sun Devils are eager to put a 5-7 campaign in 2008 behind them.
"I want to say last year was a fluke," Lauvao said.
Lauvao, a 6-foot-3, 305-pound senior, is the Sun Devils best blocker, which is why he switched from guard to tackle this spring. He believes a lack of experience and injuries made the line vulnerable last year.
"That's the biggest thing," he said. "We have a lot of ballers but you'd be surprised what injuries do."
The hope is the line will be far deeper and athletic if Matt Hustad, Zach Schlink and Adam Tello all make successful returns from injuries that knocked them out of spring practices.
The other big question for the Sun Devils is how well quarterback Danny Sullivan will play after four up-and-down years with Rudy Carpenter leading the offense.
"He's really stepped it up," Lauvao said. "He realizes his clock is running down and this is his opportunity. He's really taken the reins and been a vocal leader, making guys accountable. He's really elevated his play. He's taken the initiative and handled the situation well."
As for Lauvao off the field, he earned a degree in educational sociology in three and a half years and is now pursuing his master's degree in secondary education. He said he wants to mentor and coach young people when he's done with football, perhaps as a high school teacher.
In other words, he's not just dabbling when he volunteers.
"I kind of wish I did more," he said. "To have that type of positive influence can go a long way, pushing kids in the right directions instead of them believing, 'I don't have any options. I don't have anything to believe in.'"
Hard work and, Lauvao said, strict parenting got him where he is today. He noted that he only weighed 185 pounds as a high school sophomore and didn't play football until his junior year at Farrington High in Honolulu, where he was a two-time Scholar Athlete of the Year.
Now he's a top candidate for All-Conference honors and could play his way into the first day of the NFL draft.
But first he wants to get the bad taste of 2008 out his mouth and be part of an offensive line renaissance in Tempe.
"Last year was unacceptable," he said.
Full Article