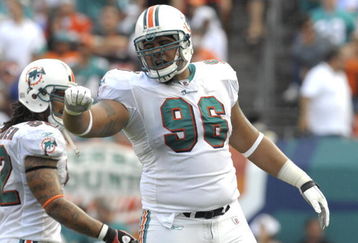 Miami Dolphins defensive tackle Paul Soliai mourned the deaths of at least two relatives on the disaster-stricken Samoas, and fears the toll for his family could get worse.
The number of causalities among relatives of Soliai and his wife was unclear. He said virtually all of his family lives on the Pacific islands, where an earthquake and tsunami Tuesday killed at least 150 people.
"It's a pretty tough time," Soliai said Thursday. "I've been talking to some of my family members. They say there's too much damage. They're still finding more bodies.
"There are still people missing — cousins, relatives. They keep me updated."
Soliai said he has been able to reach his family by cell phone. He grew up in the hard-hit port of Pago Pago, and attended college there before being drafted by the Dolphins in 2007.
Soliai said he hasn't been home since the spring of 2008, when he visited American Samoa for four days for a football camp. A backup lineman, Soliai said the disaster will be on his mind Sunday when the winless Dolphins play the Buffalo Bills.
"This is going to motivate me," he said. "I'm going to play for my people back home and my family. It's going to be a special week for me."
Full Article