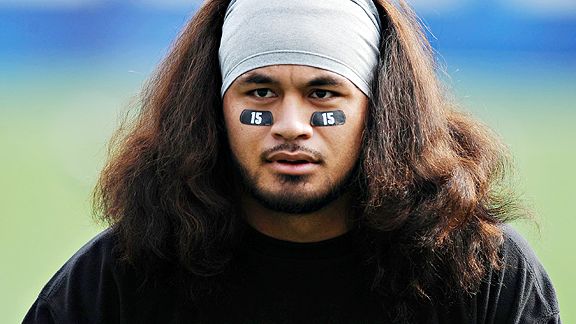 His first season could easily be described as hectic both on and off the field. But over the last six months, things have come more into focus for Rey Maualuga.
Going into his second year with the Bengals, the linebacker has a clearer path of what he needs to do to succeed on the field while finding balance off it. A lot of that perspective has come six months following his arrest on drunk driving charges on Jan. 29 in Covington.
Maualuga was given seven days in jail, waived on the condition that he have no more offenses for two years, fined $859 and had his driver's license suspended for 90 days.
Since that incident, he said, he has not had a drink.
"It's just a learning process," Maualuga said. "Each day you're learning something new about yourself. It was a chance to get to know who I was, what I did and just to learn that different part of me when that incident actually happened. You have a clearer picture in life of your opportunities. It was a good thing it happened then."
In his first season of playing outside linebacker, Maualuga had a solid season with 80 tackles, which was fifth on team, but they were void of many big plays.
His biggest hit happened in Week 2 at Green Bay when he sacked Aaron Rodgers and forced a fumble. The next week against Pittsburgh he showed his toughness when he was carted off in the second half of the Pittsburgh game with what appeared to be a serious knee injury, only to return a couple series later.
His season ended prematurely in Week 16 against Kansas City when he fractured his left ankle. Maualuga returned in time for the on-field coaching sessions in May but was limited after feeling pain in his leg. Toward the end of OTAs he had surgery on his leg to remove calcium deposits and said that he was not feeling any pain after the first four days of camp.
Overall though Maualuga felt that last year was a disappointment.
"I wanted to come out and make more plays," he said. "I wanted to be in on every play and make an impact and I don't think I did that. I'm just hoping to wash away everything that happened last year what I did on the football field and worry about a fresh, new start."
Linebackers coach Jeff FitzGerald has also been impressed with the way Maualuga has matured over the last six months not only as a person but as someone trying to be a leader.
"It was a big-time reality check for him and he's handled it very well," FitzGerald said.
"When he joined the team for workouts he knew he had to win everyone back and do it the right way because people would be able to see through if he wasn't real about what he was doing. He needs to feel as though he gained some respect for the person that he is now, overcoming the mistakes that he made and that will push him into that leadership role a little more."
Asked to describe himself and the last six months, Maualuga sees himself as a more patient person and that it hasn't been a struggle, instead it's been more of a learning process. He's also hoping that through his mistakes that others can learn.
As for the biggest thing he's learned, Maualuga said it has been to live in the now and not worry about tomorrow or next week.
Even though last year was an adjustment for Maualuga in playing Sam (strong-side outside) linebacker for the first time, there's even more on his plate this year. Defensive coordinator Mike Zimmer is putting Maualuga into more packages as the Mike (middle) linebacker in base and nickel packages. The middle is the more natural position for Maualuga.
He's also been playing the middle with Dhani Jones on some 3-4 packages that the Bengals will experiment with during the preseason.
"There's no excuse anymore. I've got a year under my belt and I think I know what I'm doing out there," Maualuga said. "As soon as a play is called you know why the coach is calling it and what my job is out in the field. I've got the physical part down. I just have to get that mental part going and line up and play."
For Maualuga and the linebackers, this is a big season. FitzGerald talks to the group about how they are a group that runs the defense. With Zimmer in his third year, they have the fundamentals down pat, but now is the time to turn it up a notch and be more physical and feared.
That's also a theme that FitzGerald has been hammering home to his group. He is hoping that this group can become like his 2006 group in Baltimore when Ray Lewis, Bart Scott, Terrell Suggs and Adalius Thomas all made the Pro Bowl.
"He's doing a good job with the learning process, and it's going to be a gradual climb for a while," FitzGerald said. "I think you will see him blossom even more so to his capabilities."
Full Article