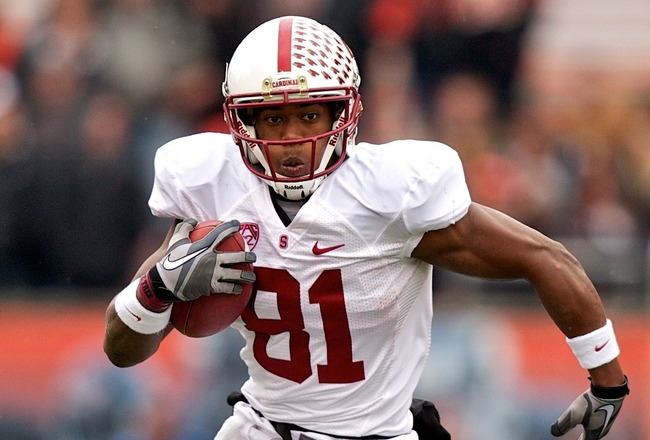 Stanford wide receiver Chris Owusu will sign with the 49ers as an undrafted free agent, his agent confirmed tonight.
Projected as at least a mid-round pick before his senior season, Owusu went undrafted due to concerns about his injury history. He had three concussions in a 13-month span during the latter part of his college career. Owusu had two concussions in three weeks during his senior season and missed Stanford's final four games.
At the NFL combine, Owusu's 40-yard dash time (4.36 seconds) matched the fastest by a wide receiver. His broad jump (10 feet, 9 inches) ranked second among wideouts, and his vertical jump (40.5 inches) was third.
Limited to 10 starts in his final two seasons, Owusu had 60 catches for 772 yards and five touchdowns as a junior and senior. He could also have value as a returner. As a sophomore, he tied a record in what was then the Pac-10 by returning three kickoffs for touchdowns. He had six kickoff returns of 50-plus yards in his career.
* Stanford defensive lineman Matt Masifilo just stopped by the media trailer after signing with the 49ers as an undrafted free agent. Masifilo said Stanford safety Michael Thomas will also sign with the team and reunite with Jim Harbaugh.
Masifilo became the first undrafted rookie to sign a free-agent contract, driving over to Santa Clara from Palo Alto.
"Coach Harbaugh likes to cut drag," Masifilo said. "He said it's a competition to get down here as fast you can."
Masifilo beat Owusu to the 49ers headquarters. Owusu is at home in Southern California.