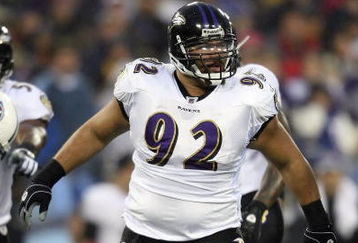 In the three years since
Baltimore
drafted
Haloti Ngata
, several spots on the Ravens' defense have been weakened.
Their secondary has taken the biggest hit. Corners Samari Rolle and Chris McAlister were aces in 2005, the year before Ngata arrived.
Baltimore signed Rolle in free agency when Tennessee couldn't afford to retain him, and McAlister had just been re-signed to a seven-year, $55 million deal.

The tandem had three All-Pro selections combined, and seemed set to key Baltimore's pass defense going forward.
Rolle suffered seizures caused by epilepsy though, missing significant time in 2007. A knee injury that same year took a heavy toll on McAlister's speed. After leading the league's sixth-best pass defense in 2006, neither was what the Ravens had expected.

Baltimore's linebacking corps has also taken its lumps. Ray Lewis, Terrell Suggs, Bart Scott, and Adalius Thomas were arguably the league's best foursome in 2006. But Thomas left as a free agent in 2007, resulting in a down year for Suggs against increased attention from opposing blocking schemes.

Lewis, still one of the league's fiercest competitors, has become more of a leader and physical presence over the past few years—as opposed to the sideline-to-sideline dominance that won him two Defensive Player of the Year awards.
And Scott, a steady performer inside next to Lewis, left as a free agent this past spring to join Ryan in New York.

Even the Ravens' defensive line, though steadier than their other two lines of defense, hasn't been free of problems.

Underrated nose tackle Kelly Gregg, an important cog in Baltimore's defensive machine since becoming a full-time starter in 2002, missed all of 2008 after undergoing surgery on his knee. In the six seasons before his injury, Gregg had played in 93 of the Ravens' 96 games, including 92 starts.

Yet, despite these substantial chinks in its armor, Baltimore's defense has pressed on. The Ravens have finished no worse than sixth in the league in total defense—and no lower than third in terms of rush yards allowed—in each of the past three seasons.

Part of the credit goes to Ryan's genius for replacement. Stand-ins such as safety Jim Leonhard and lineman Justin Bannan were NFL cast-offs before landing in Baltimore and turning into productive starters.

Increasingly, though, credit is being given where it has been due: to the hard-to-miss 6'4", 340-pound man in the middle.
"[Ngata] has been a huge part of our success," Ryan told ESPN's Jeffri Chadiha last season. "He's started from day one, and he's only gotten better and better."

Through his first three NFL seasons, Ngata has started all 52 of the Ravens' games, including four starts in the postseason. He has amassed 164 tackles—111 of them solo—in addition to six sacks and seven passes defensed, but his numbers hardly tell the full story.

Praise from his teammates and coaches comes closer.

"No one man can block Haloti," Suggs said in an interview before last season's game against Washington. "He's a physical man-child. He's a beast out there."

In addition to being one of the strongest players on the football field at any given time, Ngata has proven smart enough to be utilized in several different roles by the Ravens' coaching staff.

With Gregg performing well at nose tackle, Ryan shifted Ngata out to end in Baltimore's three-man fronts in 2007. There, he clashed with opposing tackles, locking them down to give Suggs good pass-rushing looks, and funnel running plays back inside into traffic.

Stouter, and just as quick as the linemen opposing him, Ngata would shoot the "B" gap (between the tackle and guard) to rush the passer, and some of the Ravens' blitzes had him dropping back in short zone coverage.

When Gregg went down this past season, Ngata transitioned seamlessly back into the nose tackle role, still able to play at end in some looks.

Looking to get full use out of Ngata, the Ravens have experimented with using him at tight end in goal-line packages—and not just as a blocker, though he has done well in that role.
A few plays in Baltimore's offensive playbook have him running routes. In time, he's likely to add a touchdown reception or two to his career stats line.

But Ngata, despite his stellar play, the Ravens' many uses for him, and his selection to last year's Associated Press All-Pro team, has yet to be voted to the Pro Bowl.

"Some guys that are voting on [the Pro Bowl] don't get to go up against him," Ryan ventured in an interview at the end of last season.

"I'm pretty sure when you look at all the votes that Haloti received, it's guys that he's played against. Those are the guys who will vote him into the Pro Bowl—and next year, if we play a different conference, I'm sure those guys will vote him as well."

Recognition seems to be just a matter of exposure for Baltimore's multifunctional rising star, who has left a fittingly massive impression on anyone who's seen him play.
Asked to value Ngata at the end of last season, Ryan was adamant:

"I know there are some great defensive tackles in the league, but I wouldn't trade this guy for anybody."