The trimmed-down senior running back sets his sights on a 1,000-yard season.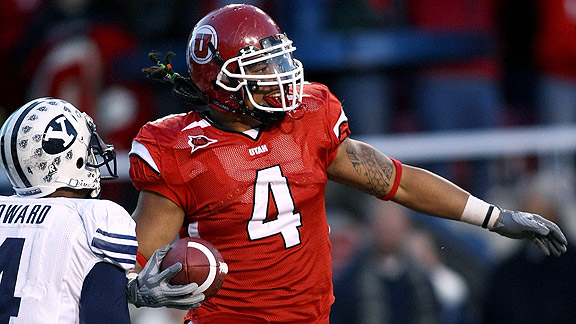 Lighter, faster, stronger. That's the way Matt Asiata sees himself heading into the 2009 season for the Utah Utes.
Asiata, expected to carry the Utes' running game this season instead of splitting time with another back as he did in 2008 with Darrell Mack, has dropped 10 to 12 pounds to about 220.
The 5-foot-11 senior has noticed a difference in Utah's early practices.
"I wanted to finish out my senior year good, so I dropped some weight and I feel a lot faster," he said.
While rushing for 1,000 yards is one of his goals, so too is staying on the field.
Asiata, who prepped at Hunter High before attending Snow College for two seasons, has struggled with injuries. In 2007 his highly anticipated debut was cut short just four carries into the season when he broke his leg at Oregon State.
Going into 2008, Asiata was slowed by a foot injury that hindered him most of camp.
He still rushed for 707 yards and 12 touchdowns on 146 carries, but didn't feel as strong as he would have liked early in the season.
"I had that broken bone and it sucked," he said of the first few games. "I just had to get over it, though, think about my family and kids and wife every time I played and just made sure I came to play my game. I want to avoid anything like that this year."
The Utes hope he can stay healthy, too, for a number of reasons. With the graduation of Mack, the Utes are searching for a capable No. 2 running back. Veteran Eddie Wide and redshirt freshman Sausan Shakerin are competing for the spot. Secondly, the Utes have made it clear they will rely on Asiata's running game early in the season to take pressure off the starting quarterback.
"He has stepped up and taken on more of a leadership role," Utah coach Kyle Whittingham said. "He is much quicker and much faster and he's going to get the vast majority of carries."
While Asiata said he's excited to know the team will depend on him, he doesn't mind sharing carries, either.
"Football is still an 11-man game," he said. "I'm going to need Eddie Wide and Shak to back me up, but it's good to be the primary guy. It's a lot of pressure, but it makes me want to perform good every practice and every rep."
Both Asiata and the coaches believe his trimmer shape will help him this year, particularly since the Utes are going to stress a quicker offense. Asiata excelled last year in the "Asiata formation," and is eager to show what he can do so this year, especially if he can stay healthy.
"I'm taking every practice seriously and I can't wait to get out there," he said. "I want to get through fall camp and be ready for Utah State."