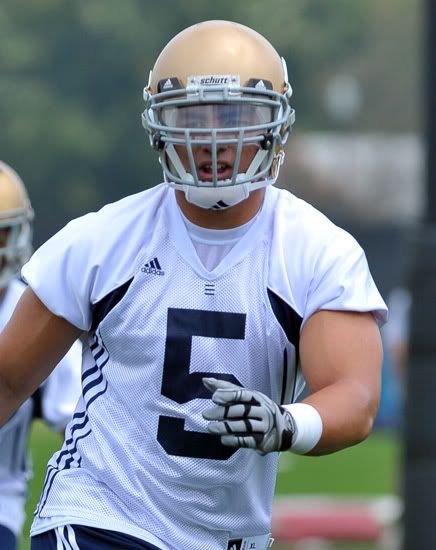 When
Manti Te'o
arrived at
Notre Dame
for his official visit last November, he was wearing shorts and a T-shirt.
That was the same weekend Mother Nature dumped almost a foot of snow on South bend, followed by lowly Syracuse dumping the Irish at home and fans throwing snowballs at their own players. No one would have blamed Te'o for dashing through the snow to the airport, catching the first plane back to Hawaii and never stepping foot in Indiana again.
Instead, one of the nation's most coveted recruits embraced the twin challenges of playing so far from home and helping a struggling program get back on its feet. Te'o will make his highly-anticipated college debut on Saturday versus Nevada, and though he won't start, he figures to see a lot of time at weakside linebacker. At 6-foot-2 and 245 pounds, he brings a mix of size and athleticism that the Notre Dame defense has been lacking recently under Charlie Weis.
But Te'o has even larger goals.
"Hopefully I influence a lot of people for good, whether it will be in football or just life in general," he said. "I want to influence people as an example of service to others."
It's easy to see, then, why Te'o chose the Irish, who despite their ups and downs, still hold one the biggest bully pulpits in college football. Speaking publicly for the first time as a collegian at Notre Dame freshman media day last month, Te'o sat at a table surrounded by more than 20 reporters, with eight TV cameras recording his every word.
That's a bit much for any 18-year-old to deal with, and Te'o admits he gets nervous every time he is in front of a camera. But he handled himself like a seasoned vet, which in some ways he is when it comes to heavy attention.
He was, after all, the top high school player in his state, the pride of Hawaii and the target of just about every major college program in the country. He starred at the Punahou School in Honolulu, the alma mater of Barack Obama and the top
prep athletic factory
in America, according to Sports Illustrated.
"There was never a ride home when I didn't answer the phone for him at least once," says fellow Irish freshman
Roby Toma
, Teo's best friend since childhood. "He had so much pressure on him. People were always asking him who he was going to sign with. But he always kept a cool head."
On the field, Te'o was a force of nature in high school. In one practice, Toma, a wide receiver, felt the full wrath of his teammate's power. The hit turned Toma's helmet around, leaving him trying to see out his ear hole.
Another time, Toma remembers, Punahou was milking a lead in the state championship game when it gave the ball to occasional fullback Te'o for a dive play on third and long.
"He broke nine tackles," Toma says. "On film, you see me out there blocking, and the play is still going on, but I just turned around and watched. You couldn't help but watch."
Those prodigious skills are why Te'o won the inaugural high school Butkus Award and was rated the No. 2 player in the Class of 2009 by ESPN's Scouts Inc. In an age where defenders are getting smaller and faster to go against the spread, Te'o has the bulk of a classic middle linebacker along with new-school speed.
"He's a lot like (former USC star) Rey Maualuga in that he has a natural instinct and nose for the football," said Tom Luginbill, Scouts Inc.'s national recruiting director. "He doesn't get caught up in misdirection, he knows where the ball is and it does not take him long to get there. And he's usually coming with a little bit of a bad attitude.
"He played in the Under Armour game, where there were a lot of former NFL and college head coaches. There wasn't a coach there who didn't come away saying essentially, 'Who the heck is that guy?' That's how much he stood out."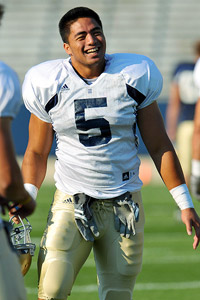 Te'o has been as good as advertised since coming to Notre Dame. Though he says he was lost his first week of camp, coaches and teammates have been effusive in praising how he has played and fit in right away.
"There's no question that he's ahead of the game," Irish defensive coordinator Jon Tenuta said.
"He's handled himself well," Weis said. "It's never easy when you come in here and you're playing your way up the depth chart quickly, as he is. There are guys who don't like it when a guy like that is breathing down your neck."
The hardest adjustment for Te'o so far is being more than 4,000 miles away from home. One of six children, he was despondent when he missed his younger brother Manasseh's third birthday this summer. His family will attend the Nevada game, but it might be the only trip they make to South Bend this fall.
"I think about them all the time," he said. "I talk to them every day. The nights I spend alone, I think about my parents, my little brother and my sisters."
Luckily, he has his buddy Toma as a reminder of home. And he's used to long travels to school.
He and Toma grew up about four houses apart from each other in Laie on the north shore of Oahu. To get to Punahou every day, they had to take a 90-minute car ride each way.
Te'o grew so homesick following his first year at Punahou that he transferred to his local school for one year as a ninth-grader. He went back to Punahou after realizing the opportunities that school provided.
"The experience I had at Punahou and learning how to adapt to new environments has helped me with my transition to Notre Dame," he said.
Te'o knows he will be under constant scrutiny in South Bend, and he hopes to use that spotlight to set an example. He was an Eagle Scout who was active in his community back home, and as a member of the Church of Jesus Christ of Latter-Day Saints, he may take a two-year mission following his freshman year at Notre Dame.
"Everybody will see what you do on the football field, but I think what matters most is who you are inside," he said. "My dad always told me, 'Don't necessarily be a man of success, but be a man of worth.'"
He wants to represent his home state and his church while leading Notre Dame back to glory. Those are tall challenges for anyone, let alone a freshman. Yet Te'o says he's prepared for anything, even another round of snow.
"I brought some pants from home this time," he said. "But I've still got to go and buy me a jacket or something."
Full Article