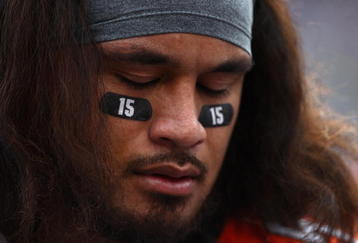 Maualuga was placed on injured reserve after he broke his ankle in the
Bengals
17-10 win over the
Kansas City Chiefs
during Week 16. The injury could not have come at a worse time for a team making their first playoff appearance in four years.
Before their 37-0 blowout loss to the
New York Jets
, the Bengals entered the game with the second best rushing defense in the
NFL
, allowing opposing teams to gain just 87.7 yards per game. They also allowed just two running backs to break the 100 yard mark all season (
Cleveland Browns
running back Jerome Harrison and Kansas City Chiefs running back Jamaal Charles).
Maualuga finished fourth on the team before his season-ending injury with 63 tackles. He also forced three fumbles and recorded one sack. Without him in the lineup, the Bengals struggled against the Jets running attack, who ranks first in the NFL in yards per game by averaging 172.2.
New York Jets wide receiver Brad Smith finished with 97 yards on just four carries, including a 57-yard scramble in the wildcat formation—the longest run allowed by the Bengals' defense all season. Thomas Jones finished with 78 yards and two touchdowns while rookie running back Shonn Greene finished with 62 yards on the ground.
Most teams don't see a second chance against a team that embarrassed them earlier in the season. For the Bengals, they get a second chance against the Jets not even seven days following their embarrassment at Giants Stadium.
The Jets will go as far in the playoffs as their running game will take them. If the Bengals' defense can shutdown Jones and Greene while forcing rookie quarterback
Mark Sanchez
to throw more, the game should be much closer than it was last weekend.
Unfortunately, the Bengals will need to figure out a way of accomplishing without the presence of Maualuga.
Full Article