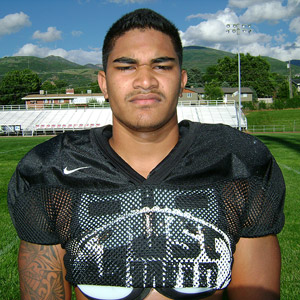 With his family connections, Texas Tech always seemed like the team to beat for Farrington (Honolulu, Hawaii) linebacker
V.J Fehoko
. After a great visit to Washington, it appeared the Huskies were in a good spot. However, a visit to Lubbock this past weekend has the Red Raiders back on top.
"Texas Tech is definitely the team to beat right now," Fehoko said. "I had a perfect visit, it was just an incredible time. First off, my host was my brother Sam and it was great to see him again. We're really close and growing up, he was like my idol so it was just a great experience to be around him again.
"I love the coaching staff and they were my first offer so they have always been high on my list. I visited unofficially before but this visit was way different. All the coaches were great and never pressured me the entire visit. Other schools I've talked with kind of put on a hard sell to me and tried to get me to commit but that's not really my style and the Tech coaches were just so easy to be around.
"I spent a lot of time with Coach (Mike) Leach along with Coach (Brian) Mitchell, who's my recruiting coach and Coach (Ruffin) McNeil, who's the defensive coordinator. They're all great guys and I have such a great comfort level with them. Coach Mitchell is a family friend and they told me they have big plans for me in that defense so that's exciting to hear."
Being able to see how passionate Texas football is was also eye opening for Fehoko.
"Man, you always hear about how crazy the fans are in Texas and how big football is but to actually see it first hand was incredible," Fehoko said. "The atmosphere was incredible and unlike any place I've ever been and I didn't even go on a game weekend. There were fans coming up to me who knew who I was telling me how bad they wanted me to come to Tech.
"Football is just crazy there and that's what I'm looking for. When you combine how great the coaches were with the environment and being around my brother all weekend, like I said, just a perfect visit and it's going to take a lot to beat out Tech right now."
Despite the A-plus visit, Fehoko said he still plans to take a few more visits before he pulls the trigger.
"I still have Utah State set for [Jan. 15] and Utah for [Jan. 22]," Fehoko said. "Just like I said after my Washington visit, I kind of owe it to myself to take all these visits to make sure I'm doing the right thing. When I commit, it's going to be final and I don't want to have any regrets.
"I believe a man is only as good as his word so you'll never see me commit and then back out. The Tech coaches said to take my time and they would have a spot for me so I'm not worried about waiting too long and not having a ride there. I'll still talk things over with my parents though and see what they have to say. If over the break, I feel like the time is right to commit somewhere, I'll go ahead and do it but as of right now, my plan is to still take those last two visits and maybe even a mid-week visit to Hawaii pretty soon here as well."
Full Article