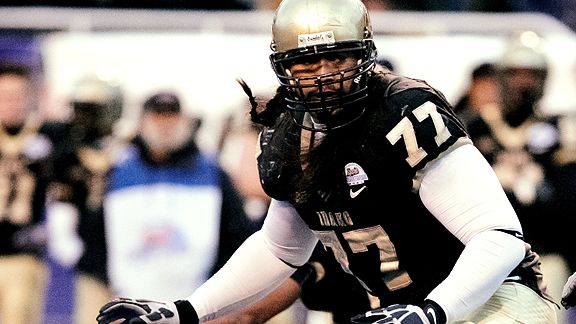 Top-ranked offensive guard Mike Iupati continues to garner major interest from NFL teams and is expected to be drafted within the first half of the first round, according to league sources.
According to a source close to the program, Iupati has visited the Kansas City Chiefs, Dallas Cowboys, Tampa Bay Buccaneers, Detroit Lions, Cincinnati Bengals, Minnesota Vikings, Cleveland Browns, San Francisco 49ers and the Miami Dolphins.
He conducted private workouts with the Cincinnati Bengals, Philadelphia Eagles, Cleveland Browns, New York Jets and the Detroit Lions.
Per an NFL source, the Oakland Raiders are extremely high on Iupati and have him under consideration to be drafted eighth overall. Raiders coach Tom Cable used to coach at Idaho.
The 6-foot-6, 331-pounder is coveted by NFL teams for his intensity, athleticism, long arms and brute strength.
While he still needs to refine his techique and adjust to a higher level of football, he's regarded as a rising draft prospect.
"I'm very aggressive off the ball," Iupati said at the NFL scouting combine. "And I open some holes for some running backs. I like to be engaged real quick and I like to pull. I think I will do a great job as an offensive guard.
"It's very natural to me because I'm very competitive. That's my nature. When it comes to football, I like to destroy."
In popular NFL parlance, Iupati is a beast.
He vaulted himself into first round status with a strong showing at the Senior Bowl.
With long arms (35 inches) and impressive mobility, Iupati has lined up at both offensive guard spots as well as left tackle.
Despite playing against a lower level of competition in college, Iupati has been up to the task. He's a mauler with good feet and burgeoning technique.
Besides his initial quickness at the line of scrimmage, he controls defensive linemen with his strong base.
And the consensus All-American is building a reputation for having a nasty streak.
Former Baltimore Ravens and Cleveland Browns scout Daniel Jeremiah weighed in on Iupati.
"Most likely Pro Bowler if you took a poll of scouts at the Senior Bowl," Jeremiah stated. "Rare size, strength and quickness. Sticks out like a sore thumb."
National Football Post conducted the following interview with Iupati during the Senior Bowl:
What's your confidence level like right now?
Iupati: "Yes, my mentality is confidence. I come here and concentrate. Even if I get beat, you know what; I'm going to go again. I'm not afraid of getting beat, but I just hate getting beat. I just come back and do it again better."
How did you wind up at Idaho?
Iupati: "I was a non-qualifier out of high school. Idaho saw me at a barbecue function at a JC and they went and talked to my head coach and offered me a Prop 48 deal."
Is this your ideal playing weight?
Iupati: "I lost weight. I played heavy before. I'm a lot faster and quicker now. I lost weight since my first year of playing. I was about 345. I'm 325 to 330 now."
Why did your family move to the United States from American Samoa?
Iupati: "Better chance for a better education. We didn't have sports I was in junior high school or a chance to showcase our ability. We learned to compete and we're very competitive.
"I'm a very competitive person. Football was a way for me to get distracted from gang life and other distractions. It's a big key for me. I was a very good defensive player but I got moved to offense."
What do the NFL teams ask you about during the interviews?
Iupati: "Just how good I know the game of football, what's my knowledge of football. How do I learn and stuff and my language barrier. I think I picked it up very well. Most offenses run the same schemes, just different variations. My freshman year in college, I tried to learn the rules of the game I take it all very well."
Where does your aggressiveness come from?
Iupati: "It's something you've got to be very physical to be a competitor. You got to be physical to win the game, to be dominant. You got to come there and use your big body and be aggressive with it."
Do you feel like you intimidate defensive linemen?
Iupati: "With my big size, some people get intimidated. Some other big guys are just big and they don't care. With me after the game they'll say wow, and congratulate me."
Do you feel like you're helping your stock?
Iupati: "Yes, by working with different positions and trying to get a feel for it at the next level you have to be versatile. I have to let them know I can play."
Do you expect to go in the first round?
Iupati: "Yes, that's my goal, but it don't matter. Everything is a blessing for me."
What sets you apart?
Iupati: "My personality. I'm very humble. In the game, I turn it on. When it comes to football, I'm very laid back off the field."
Full Article