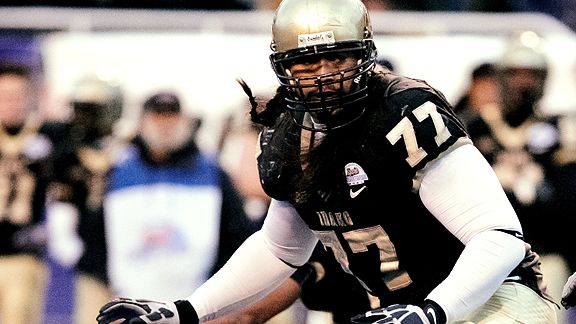 The kid who didn't get much notice coming out of Western High School in Anaheim four years ago is creating quite a stir heading into the NFL draft.
Mike Iupati has been one of the hottest topics on the eve of Thursday's first round, which will be televised live on ESPN beginning at 4:30 p.m. (PDT).
The 6-foot-5, 331-pound offensive guard, who was an All-American at the University of Idaho last season, has made a name for himself over the last year as NFL scouts discovered Iupati not only had a massive frame, but the strength, quickness, agility and temperament to move opposing defensive linemen and protect the all-important quarterback.
What's undeniable is his distinction as the top player at his position in this year's pool of draft-eligible athletes.
What nobody seems to agree upon is how soon he'll be selected.
The latest speculation has him going as high as No. 8 to the Oakland Raiders. The offensive line has been a soft spot for the Raiders in recent years and owner Al Davis has been known to burn a trail of his own on draft day.
Not only that, but the head coach of the Raiders, Tom Cable, is a graduate and former coach at Idaho, and Oakland's passing game coordinator, Ted Tollner, is the father and uncle of Iupati's agents, Bruce and Ryan Tollner.
Then there's the San Francisco 49ers, who have the 13
th
and 17
th
selections of the first round. The organization is also in need of help up front, but as with most teams, San Francisco would prefer to bolster its offensive line with a blue-chip tackle, a position that carries even more responsibility when it comes solidifying a pass rush.
That philosophy has been evident in recent drafts. The last time an offensive guard was picked in the first round was three years ago. Last season, the first guard wasn't taken until the 51
st
overall selection.
But there's an intangible with Iupati that most other guards don't have. He has the height, nimble feet and long arms that could be used to transform him into an elite offensive tackle at the professional level.
"He's certainly capable of that," said Toby Howell, who coached Iupati at Western High. "He's a big, strong, fast kid who will do whatever they wanted of him. I can't imagine too many tackles who have the footwork, strength, toughness and is as coachable as Mike."
The fact that Iupati is being scouted as a first-round draft pick is remarkable considering where he was seven years ago.
His family immigrated from Somoa when he was 14, in search of better education opportunities for their four children. They first settled in Garden Grove, where they lived in an aunt's garage.
"Then my parents both had jobs and were able to support us financially, so we moved to a small apartment in Anaheim and lived there paycheck to paycheck," Iupati told the Bergen (N.J.) Record.
"It's been hard. That's why I always take advantage of every little opportunity I get, just try to seize the moment so I can have a better future for myself and my family."
Iupati enrolled at Western just before his sophomore year and was first introduced to Howell by Iupati's older brother, Junior.
"He was taller than Junior, but not as filled out," Howell remembers. "He was pretty raw."
Howell placed Iupati on the junior varsity squad to start that first season, but then his star senior defensive tackle Fili Moala, who now plays for Indianapolis Colts, was injured early in the season Iupati was asked to fill his shoes.
Over the next two seasons, Iupati continued to improve by leaps and bounds. By the time he was a senior, he was an all-state lineman who led the Pioneers to back-to-back Southern Section final appearances.
The one area where Iupati came up short, however, was in the core class requirements needed to earn a Division I college scholarship.
He was prepared to enroll at a junior college when coaches at Idaho offered him the opportunity to attend the school if his parents paid for his first year and Iupati met classroom requirements, known as a Proposition 48 athlete.
"We had a couple kids at Idaho already," Howell said. "Mike calls me the next day and told me about the deal. He was a little unsure, but I said, `Take it, you can't be sure how things will go at a JC.' "
Iupati's parents agreed to take out a loan in order to pay for his first year at Idaho, and it wound up as the best investment they've made.
He had to sit out his first season, but became a starter as a sophomore in the fall of 2007. He was sidelined part of 2008 after undergoing shoulder surgery, but then blossomed last fall, grading out at 90% or better in all 13 games, including a 43-42 victory over Bowling Green in the Humanitarian Bowl. He did not allow a sack the entire season.
Iupati spent the last few weeks flying from one city to another and meeting with prospective NFL teams.
According to reports, Iupati has visited the Steelers, Dolphins, Chiefs, Cowboys, Buccaneers, Bengals, Vikings, Browns, Lions and 49ers. Others have been more inconspicuous about their contact with Iupati.
Regardless of where he is drafted, Iupati is already planning to pay his parents back for the loan they took out, plus a lot more. According to a family friend, they've already picked out a plot of land in Somoa where Iupati will build a massive house where his parents can retire.
"It's tough to live down in California," Iupati told the Spokesman-Review in Spokane, Wash. "It's very expensive. This is a great opportunity to help them out. They've been sacrificing a lot since we got here."
Full Article