After falling one point shy of likely having an opportunity to defend their California state championship (in the CIF Open Division), the Grant Union High School (Sacramento) football team isn't asking questions.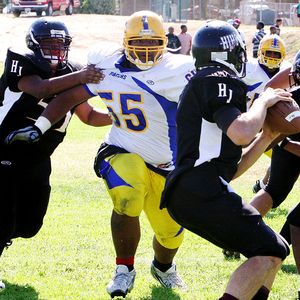 They haven't asked why they couldn't convert a first-and-goal situation into points. Why a game-winning field goal attempt sailed wide. Or why they were denied an invitation to a 2009 California State Bowl game. There's no point to these queries.
"We are the answer," defensive coordinator Reggie Harris said. It's what the Pacer players chant at the conclusion of every offseason huddle, every workout concluded in the Grant weight room and every time someone brings up the disappointing end to last season. And as the answer, they are looking ahead.
Over the last four years, the Pacers have been a competitive force in high school football. Harris believes that in 2006, the Pacers were arguably the best team in the state, but they were overshadowed by perennial power De La Salle (Concord, Calif.) when it came time for state bowl game selections. Two years later, the Pacers stormed to an undefeated record and a 25-20 state title win over another California power, Long Beach Poly. And despite falling short of a return trip to the title game last year -- which has some wondering whether the Pacers have enough to keep them among the state's elite in 2010 -- Harris says the team is still on track.
"We are the answer," he repeated. "That's the bottom line. There are high expectations for this team going back to state and winning it this year."
For Grant, everything starts at the top with Mike Alberghini, a Hall of Fame caliber coach preparing to begin his 42nd season at the school, the past 20 of those as head coach.
Each year, Alberghini undertakes the difficult task of building a championship-level team in the heart of northern Sacramento's troubled Del Paso Heights area. It's a region more known for poverty and rampant gang violence than college scholarship recipients. And if churning out successful student athletes and community stars under such conditions isn't enough, Alberghini must also work within the confines of public school, meaning he is unable to go out and recruit players like private schools.
Still, working against the odds, both Harris and Alberghini have made tremendous strides. This season, they will have the opportunity to watch five of the best defensive players in the state -- and it just so happens that they'll all be breaking the same huddle.
Even Alberghini, able to cut to the heart of any issue in a no-nonsense way that Bill Parcells would envy, allows himself to be momentarily caught up in the idea of unleashing a nearly unmatchable amount of defense talent at the opposition this season. For a team that pitched eight shutouts in 13 games last season, getting five starters back who will eventually sign with FBS programs is almost unfair.
"I can't ever remember having five kids this good," he said. "We have some pieces that could make it a pretty nice puzzle."
The Pieces
Just as everything Grant football starts with Alberghini, everything Pacer defense begins with defensive tackle
Viliami Moala
, a 6-3, 300 pound wrecking ball in the middle of the defensive line. Already holding scholarship offers from most of the Pac-10, the man known as "V" could become one of the most highly recruited line prospects in the country.
"Dominating, aggressive, relentless," Harris said about Moala. "It's a blessing that we have special athletes such as 'V' because he's a leader. It makes our job easier. He leads by example and everyone else falls in place. There are no inconsistencies."
"He has speed, athleticism, size and strength," Alberghini said. "A defensive tackle that requires a double team -- that he can sometimes beat by himself -- is very nice to have. For a while he just got by being strong. But he's developed a little bit of a motor and some anger. He gets frustrated with being double teamed now and he has that mean edge."
While Moala may be a big cog in the Grant defense, he's not a big talker. He has gone out of his way to deflect all recruiting questions, and instead focuses on what he and his teammates have an opportunity to accomplish.
"College is the next step, but expectations are high for us this year," he said.
Moala in the middle would be enough to boost any high school defense, but Harris has the ability to lean on
Darryl Paulo
in at middle linebacker as well. Paulo, a 6-3, 245 pound three-year starter, says he loves nothing more than playing downhill and stopping the run. A converted offensive guard, he began playing middle linebacker last season and was quick to adjust to the new position.
"He's another leader, a warrior," Harris said. "If Grant High School was an island, he'd be king of the island. He controls the momentum of the defense and is a very intelligent player."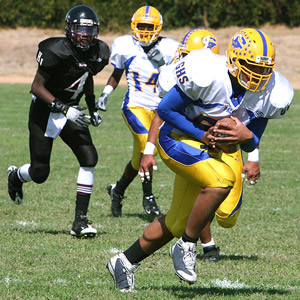 Paulo, who has garnered interest from much of the Pac-10 conference and an offer from Washington State, said the switch to linebacker agrees with his football disposition. "I get a lot more freedom there," he said. "I love running around the field and hitting people."
And it doesn't stop there for Grant.
"What's really nice about our defense is that, just like in baseball, you want to be strong right up the middle, and we are really strong there," Alberghini said. His "last line of defense," Alberghini added, is free safety
James Sample
.
"[Sample] is a very competitive kid and another leader who doesn't make excuses for anything. He just gets the job done," Harris said.
Sample currently has offers from Arizona, Arizona State, Washington and Washington State, although Harris is surprised that the list isn't growing by the minute.
"It doesn't matter who has offered him so far," Harris said. "The question is going to be posed for coaches at the next level. They're going to say to themselves, 'Why didn't I offer this kid?' He's such a dominating force. They can either get him or play against him. He's going to be a kid just like [former USC Trojan] Taylor Mays once he is able to bulk up and get stronger in a college program."
Perhaps no player on the Pacer defense is poised to take advantage of the strength up the middle more than defensive end Faigame "Puka" Lopa. Coming off a 100-tackle, 20-sack season in 2009, Lopa currently holds scholarship offers from Arizona, Washington State, Washington and San Diego State. A 6-2, 250 pound terror off the edge, Harris is excited to see what he does as a senior.
"He's a mirror image of 'V' in that he's non-stop and consistent," Harris said. "He's rangy and can move sideline to sideline as a defensive end."
Lopa, like the rest of the Grant team, has only the goal of a state championship this year with an all-star cast of teammates.
"I started thinking about this during my freshman year," he said of playing with his fellow seniors.
"There's no feeling like playing with kids who you grew up together with in this neighborhood. It's amazing to me."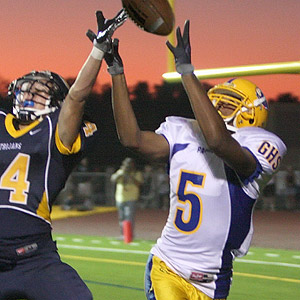 But what might be the most amazing feat of all is that with those four seniors headlining the defense, perhaps the best prospect is junior cornerback Shaquille Thompson. The younger brother of former Grant Union and University of California star Syd'Quan Thompson, he is coming off a sophomore season in which he rushed for 364 yards and seven touchdowns, caught passes for 101 yards, another score and recorded 74 tackles, three sacks and three interceptions on defense. For good measure, he averaged just over 40 yards on seven kickoff returns.
"Last season, he could have been our starting running back. This year, he could end up being our starting quarterback. He's a man amongst boys out there. He has great size and is the quickest guy on the team. At his track meets, he's just running away from people. He's the real deal," Alberghini said.
Thompson, who hesitated in stepping into a leadership role last season, deferring to more experienced teammates like tailback
Devontae Butler
, will have an opportunity to show what he can do out front, on both sides of the ball. And the increased role will likely garner him even more attention and offers at the collegiate level.
"Right now, Cal, talks to me and Washington a little bit," Thompson said. "I'm thinking that I might follow my brother to Cal, but then I might have to think about that. He already set his name there and I might want to go somewhere else to do my own thing."
What's certain is that Thompson is about to do his own thing this season, perhaps filling the team's biggest potential hole, at quarterback.
"I can do a lot of things if I put my mind to it and practice a lot," he said. "This year I feel I can do more to compete with the seniors -- to be at their level."
And thanks to five of the top defensive players in the state, Grant football could reach a level this season matched only by 2008's title team. With an all-state caliber player in every level of the defense, there is no limit to what this team is capable of achieving.
"All five of those kids are great team leaders and great human beings," Alberghini said. "Sometimes schools are blessed with two or maybe even three at a time. We're blessed with five."
Full Article