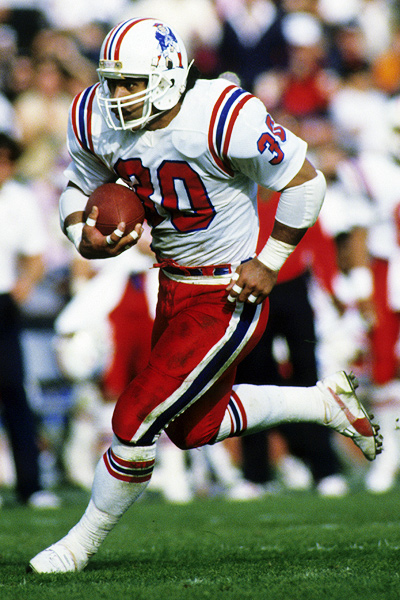 Mosi Tatupu, who played for the New England Patriots from 1978-1990 and was a star performer on special teams, died Tuesday at the age of 54, according to the Honolulu Star Bulletin.
The cause of death was unknown, according to the report, which also indicated that Tatupu suffered from high blood pressure and other ailments.
"He was one of those fun guys in the locker room who also had fun on the field," said former Patriots quarterback Steve Grogan, who was one of Tatupu's teammates in New England. "When he went to practice, he had a smile on his face all the time because he was having fun. He enjoyed playing football. He could have played in any era, for anybody at any time. It's a shame that he's gone at such an early age."
Tatupu played 13 seasons with the Patriots, starring as a special teams player (making the Pro Bowl in 1986) and as a jack-of-all trades running back. He was one of the most popular players of his era and even had his own cheering section at Schaefer/Sullivan Stadium called "Mosi's Mooses."
"I think football fans in this area appreciate a lunchpail attitude, someone who shows up for work every day and that's what Mosi did," Grogan said. "I think his personality, the spirit and fun he showed on the field, transferred to fans.
That's why they loved him so much."
He rushed for 2,415 yards over his career with the Patriots, scoring 18 touchdowns and averaging 3.9 yards per carry.
"He was not only a really good football player who could do a lot of different things for you, "Grogan said, "from special teams, to goal-line situations, coming out of backfield and catching the ball, blocking."
At the time of his death, Tatupu, a native of American Samoa and considered one of the greatest athletes in the history of Hawaii, was running backs coach at Curry College in Milton, Mass. Tatupu had also coached his son
Lofa Tatupu
-- now a linebacker for the
Seattle Seahawks
-- at King Philip Regional High School in Wrentham, Mass.
------------------------------------------------------------------------------------
Without a doubt, the athlete in our class who received the most notice was Mosiula Tatupu, or "Mosi" as he is more familiarly known. In 1990, Mosi's Punahou athletic achievements were recognized when he was named one of the 84 members of today's Punahou's O-Men Hall of Fame. The 1990 Punahou Bulletin Holiday edition included the citation for Mosi's enshrinement on page 5. For your reading pleasure, it is reprinted here.
During his sixth grade, Mosi was a member of a pony league football team which included his close buddy, a student at Punahou. As a result of their friendship, Mosi persuaded his family to send him to Punahou the following year. This was a fortunate move for Punahou as Mosi became one of the greatest all-aroud athletes in Hawaii sports history.
In football, he was an All-State selection in his sophomore, junior and senior years. In his senior year he earned High School All American honors. He culminated his football career at Punahou by rushing for 182 yards in the Senior All Star game against the OIA's best. His single season and three year high school career rushing records established in 1973, stood for 17 years until November 1990.
An outstanding basketball player, he won All-State honors and led his team to a State Championship in his senior year. In baseball, he was a power hitting outfielder and again a member of a State Championship team. During his Punahou career he won nine letters and was awarded numberous ILH and State All Star and MVP awards in all three sports.
Going on to the University of Southern California , he played four years for the Trojan football team. Former coach John McKay called Mosi the "best blocking back in USC history" and compared tackling Mosi to "tackling a Coke machine." Mosi started several years as fullback and was a member of two Pac-10 championship squads plus a national championship team. He played also in several annual bowl games.
Mosi is starting his 12th year with the New England Patriots. He has been captain of the special teams for many years and made All Pro as a special teams player. Very active in civic events in his New England area, Mosi has won the affection of his community, his football fans and his fellow players. Mosi, welcome to the Hall of Fame!
Full Article