Alabama is extending their reach across the country for the best players they can get. Today, Isaac Luatua, of La Mirada, California committed to the University of Alabama, becoming their 13th commitment of the 2011.
Nick Saban is looking at him as the center of the future and his 6'3" 295 pound 17 year old seems capable of doing just that.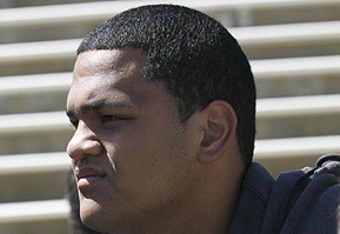 "Isaac plays guard for us, but could end up playing center on offense," his high school coach, Moschetti, said.
"On defense, he plays inside at defensive tackle. Some schools like him on defense and some like him on offense. I think if you watch him offensively, he just destroys people. I'm an offensive guy, so I want him on the offensive side of the ball. But defensive linemen are tough to find, and Isaac is a kid who has grades."
People who know him say he's a very polite young man, a devout Morman, as are many Pacific Islanders now, and a hardworking student. He's simply a joy to be around.
Moschetti added that Luatua doesn't care what position he plays at the next level and feels he could play any of them well.
"Isaac has great athleticism, outstanding strength and he's mean kid on the football field," Moschetti said. "He has a lot of anger on the field, and off the field he's a big teddy bear, but once he's steps between the lines, his goal is to get a scholarship, and all he wants to do is win a national championships. That's all he talks about.
"Isaac benched 225 lbs, 24 times. He's also the center on the basketball team, so for three months, he hasn't really been lifting so he naturally strong. He's a freak. He's about a 550 on the squat."
The key point here is that he was doing that already without being in a weight lifting program. Can you imagine what a beast he could turn out to be with Scott Cochran's tutelage for a year?
Almost every program took a look at him, and he had dozens of offers. Many thought it would come down to Colorado, where his father played for Rick Nueheisel. Then it was UCLA, only 40 minutes from his home and where Nueheisel is today. And then there was Tennessee.
Luathua had been saying for months the competition in the SEC had his attention and Tennessee in particular.
He had many nice public things to say about their coaches and the program there, and it looked like a lock until Nick Saban and Alabama offered.
"I talked to Coach Nick Saban last week. He's a great competitor and coaches with toughness," Luatua said.
"I love how Coach Saban challenges his players on and off the field.
"I want to play for a coach that is in my face, has coached the best," Luatua said. "Coach Saban is that type of guy.
"I'm going to give everything I got to the University of Alabama and to the state of Alabama," Luatua said. "I have two simple goals, win National Championships and get a degree."
All this without ever having visiting the campus.
"Isaac isn't interested in the process of recruiting," his high school coach said. "He wanted to commit early, and get that behind him, and focus on other things."
Does it intimidate him to come to Alabama, a place with so much talent there already in front of him?
"There just isn't another place like it and it's a perfect fit," Luatua said. "I don't care about depth charts, etc.
I'm going to Alabama and for the tradition, fan support, and the academics were all the determining factor in my decision.
"The Alabama tradition speaks for itself and it's a great academic school," Luatua continued. "Alabama has simple goals and that is to push you like you have never been pushed before, do the right things on and off the field and win National Championships."
When asked to describe his type of play, he responded, "I'm explosive. I get after the guy in front of me fast and try to knock him down. I'm very physical. But I want to try and stay lower and not always have to out-muscle guys."
With Joe Pendry teaching him technique and Scott Cochran giving him the muscle, there is little doubt he will fail to accomplish either goal.
Full Article