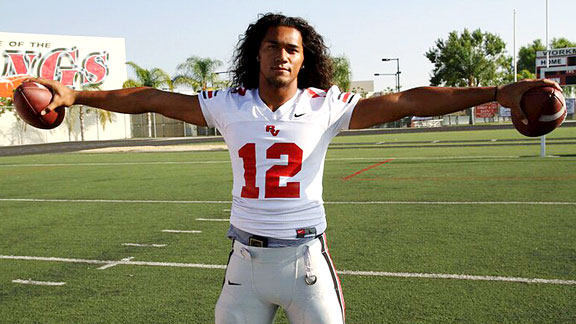 Junior Pomee appears to have a rather promising future ahead of him on the football field. Keep in mind, the 6-foot-3, 225-plus pound senior from Moreno Valley Rancho Verde High is one of the country's top tight end prospects with a scholarship offer on the table from several NCAA powerhouse programs.
Pomee, however, is a bit reluctant to move forward. He has some unfinished business to take care of, namely honoring a fallen teammate, Emil Smith, who was killed in an automobile accident months before the 2010 season.
Before life continues for Pomee, it's his desire to commemorate the life that was lost the best way he knows how: with a Southern Section Central Division championship. Accordingly, he played a prominent role in Friday night's 42-21 semifinal victory over host La Quinta to move the Mustangs a step closer to winning a title in Smith's memory.
"We dedicated the season to Emil, and we know he's upstairs, watching down on us. We're not going to let him down,'' Pomee said. "Before our games, we carry out a banner with his picture on it and then hit the field. It's like Emil is still with us, in some ways. His spirit motivates us. His spirit gives us energy and emotion. His spirit gets us hyped to play."
Similar to Pomee, Smith appeared to have just about everything going for him. The senior linebacker had committed to Boise State in June. On July 18, he was sitting in the passenger seat, alongside his older brother and driver, Dimitri Garcia, when they crashed into oncoming traffic in nearby Hemet.
Just like that, Smith was gone. And just like that, Pomee was devastated. His teammates, too. Seemingly everyone on campus was distraught.
"Emil meant a lot to everyone," Mustangs coach Pete Duffy said. "He was the poster child for Rancho Verde football. He exemplified our program. He was a coaches' dream. Rain, sleet or snow, he always gave 110 percent. Go out and play like Emil always did, I think our players know that's the way things are supposed to be done around here.
"When Emil passed away, Junior was one of the kids that took it the hardest. He's one of those guys who wears his emotions on his sleeve. He's a lightning rod. You know when he's mad ... and you know when he's happy. There's no in between with Junior, that's just the way he plays the game and lives his life. Give him credit, through it all, he's stepped up and emerged as a team leader in Emil's absence. I can't explain how important that's been.''
A day does not pass without Pomee thinking about his former teammate. In fact, he ends each one of his text messages with: RIP E. Smith. "He's always on my mind,'' Pomee said. "It doesn't matter if I'm on the field or off the field, I try to keep Emil's memory going strong.''
Pomee has been largely, though not solely responsible for the emergence of Rancho Verde this season. The Mustangs, after all, are one of the Southland's few teams left that can actually boast about having an unblemished record (13-0).
As with most programs hoping to finish undefeated, there were several close calls along the way. But each time Rancho Verde faced adversity, its leader in receptions, yards and touchdowns managed to find a way to win.
For example, in the regular-season finale against Riverside Arlington in mid-November, Pomee delivered the play of the game in the waning moments of the fourth quarter. He alertly scooped an attempted onside kick by the Lions' special teams unit and returned the ball 52 yards for a touchdown to not only secure a 28-16 victory, but also help Rancho Verde clinch its fifth consecutive Inland Valley League championship and the all-important top seeding for postseason play.
Surprisingly, the Mustangs haven't faced many challenges in the playoffs thus far. In the first round, Pomee caught 80 and 60 yard touchdown passes from Travis Champion in a 70-3 victory over Pomona Garey. It was more of the same in the quarterfinals; Pomee was one of six players to score in a 49-3 victory over San Bernardino San Gorgonio.
"Junior is a playmaker, and it doesn't matter if he's double- or tripled-teamed, if I throw it up to him, chances are he's going to come down with the ball,'' Champion said. "Quarterbacks always talk about having a go-to guy, that's Junior for me. We have a connection. We're on the same page. He's a blessing and makes my job a whole lot easier, it's plain and simple.''
The fact Pomee has excelled shouldn't come as a major surprise considering he moved up to play varsity ball for the Mustangs at the end of his freshman season. He has been a starter ever since. And college recruiters have kept a close eye on his progress.
Pomee runs the 40-yard dash in the 4.6-second range. No slouch in the weight room either, he bench presses 315 pounds and squats and power cleans 445 and 280 pounds, respectively. It's also worth mentioning he possesses a 39-inch vertical jump.
At one point, Pomee had committed to play for Rick Neuheisel at UCLA. Word traveled fast, and once schools such as Florida and USC heard about his measurables and started expressing varied levels of interest, he decided to keep his options open.
Tight ends are seemingly a hot commodity these days and ESPNU ranks Pomee as the country's No.13 player at his position.
"Junior is a great blocker, for one," Duffy said. "He opens up wholes for our backs up the middle, or we can get out on the edge and run behind him because he makes things happen downfield. He's not afraid to body people up. Contact doesn't bother him.
"In the passing game, Junior is a hybrid receiver-tight end. He runs great controlled routes underneath and makes the tough catch in traffic. When we need to stretch the defense, we'll throw him the ball vertically because he has a knack for getting open deep.
"Junior has a lot of upside. He's a great weapon to have around. Size, speed and strength, he's the total package. He's going to make some coach at the next level very happy once he makes his choice about where he wants to spend the next four years of his life.''
A decision about college, however, will have to wait.
The only thing Pomee & Co. are focused on is winning a title for Emil Smith. And the Mustangs will have the opportunity to accomplish their goal in next Friday's title game.
"We've come too far to turn back now,'' Pomee said. "It's going to be important for all of us to keep our composure in the title game because emotions will be running high. We're going to come out with a mentality, an intensity, like no one has ever seen before.
"We know what's at stake. We've been hoping that this time would come for us. Our mind-set is to go out and win every battle; Emil would've wanted things that way. We're going to play our hearts out, believe that. This is our chance to win it all for our brother.''
Whether that happens remains to be seen.
One thing is certain: Emil Smith's memory lives on.