So, everyone saw that, right?
We saw that blink-of-a first step that started a straight line to the end zone, capped by his appreciative, celebratory point at the band and surrounding fans who made the trip from Lincoln to Manhattan for the last time?
We saw that sprint around the defense, certain that any defender intent on closing off the sideline would get there a few crucial seconds too late?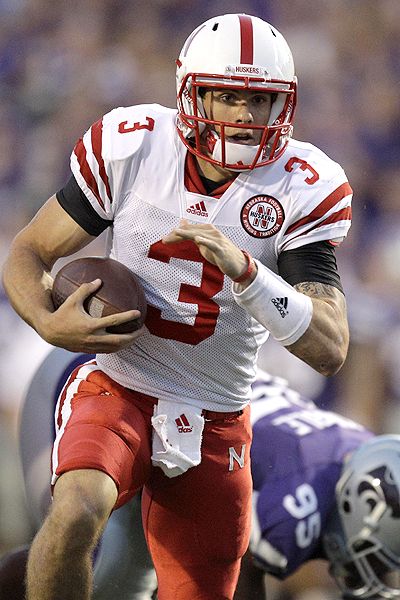 We saw
Taylor Martinez
channel T-Magic and silence a sea of purple on the road for the second time in his brief five-start career, beating Kansas State
48-13
in his first conference game, weeks after leading a five-touchdown stomping of Washington in Seattle.
We saw a redshirt freshman tempt us to throw his name in the same sentence with Heisman Trophy.
We ain't seen nothin' yet.
"He made some mistakes, but he did a lot of good things, obviously. He ran for a lot of yards," said coach Bo Pelini.
More yards, in fact, than any quarterback in the long history of Nebraska football. This isn't the old-school option attack the corn-fed Nebraskans grew up watching, but they'll gladly take it.
Martinez's 241 rushing yards stated loudly, to everyone watching inside the stadium and on the national telecast, that any team who beats Nebraska will have to beat him first. And if they do, they'll have to deal with his two friends, running backs
Rex Burkhead
and
Roy Helu
, who combined to run for 167 more yards on 19 carries, an average of almost 9 yards a carry. With apologies to Oregon, there might not be a rushing attack in college football more difficult to defend.
The defenses will get better than Kansas State, who entered Thursday night's game as the Big 12's worst run defense and outside the top 100 nationally. But Nebraska's got a pretty good one, and they held
Daniel Thomas
, the Big 12's leading rusher, to just 63 yards on 22 carries, almost 100 yards below his average of 157 a game.
But those same Blackshirts hate seeing Martinez every day as much as Kansas State did on Thursday, and the Wildcats only had to fail at catching him for a little more than three quarters.
"It's frustrating," said Nebraska linebacker Alonzo Whaley. "You never know what to expect from him. What you saw out here today, we've seen all camp. It's good to see him execute, and it's really confusing. It bothers us a lot. It bothers the defense when there's somebody so explosive."
The toughest part of defending Martinez is what Kansas State learned very quickly on Thursday night, and what every defense the rest of the year will have to compensate for better than the Wildcats.
"The hardest part is knowing he can outrun you," Whaley said.
Get used to it. And that goes for almost everyone. Martinez says he ran a "low 4.4" 40-time as a junior in high school and hasn't been clocked since. True or not, you won't hear any arguments from Manhattan for awhile.
And that blur we saw cross the goal line four times will get better fast, making more opponents resort to Kansas State's most-often used defensive strategy in the lopsided loss: the cuss and chase. (Not allowed at Kansas.)
"He's not a done project. Everybody's got to remember, he's a redshirt freshman. He's got a lot of work to do, but the thing about this kid is he's a fierce competitor. He doesn't say a lot because he strives for perfection in everything he does," said offensive coordinator Shawn Watson. "He's really easy to motivate in that aspect because he wants to be a great player. He wants to be the best."
Pretty soon, he might be.
We saw that half step Kansas State got on Martinez's 79-yard touchdown pass to
Kyler Reed
in the third quarter. It stretched the lead to a comical 38-6 after a hard-earned field goal from the Wildcats.
Martinez might not be handing out those half steps to defenses for much longer.
"Honestly, because of the way these games have evolved, you haven't seen him as a passer. He's a really good passer," Watson said. "He's got passing talent. We haven't thrown it that much."
Just seven times on Thursday and 64 times in five games. And why would they? Kansas State would have liked nothing more.
When the season began, Nebraska had a quarterback controversy. Or at least claimed to have one, with Pelini insisting Martinez and his backups were "close" before fall camp began. Here's guessing it wasn't much of a controversy very long in the coaches' meetings. After Martinez's debut in the season opener, Watson admitted that his status as the team's starting quarterback was "clear" by the end of fall camp.
Ya don't say.
He looks ready to hit that lengthy stride plenty more times and take Nebraska on a ride in its final season in the Big 12. After Thursday night, the path looks clear: a date with the Sooners for a storybook Big 12 title game between the Big 12's only two teams currently in the top 10.
Getting there will be fun. It might come with a few bumps in the road, like the mistake-filled performance against South Dakota State a week ago that Watson said left Martinez feeling "insulted," both by his own performance and the coaches' decision to pull him late in the game.
But performances like those fuel performances like this, when his fifth touchdown of the night sent fans to the exits with just over 12 minutes left to play.
Martinez won't talk about it now, but plenty of schools in the Pac-10 saw the Corona, Calif., native long before Thursday night, when the rest of America caught up. They didn't see their future starting quarterback.
Understatement perhaps, but...bad move.
After Thursday's win, all Nebraska is left looking for is Martinez's ceiling.
"We'll see," Watson said. "The kid's been amazing."
Full Article