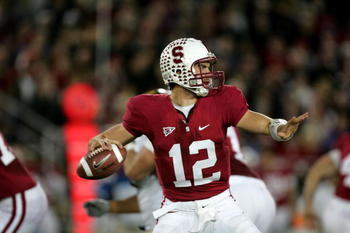 Former Stanford quarterback Tavita Pritchard (2006-09) has lots of stories he can tell the younger players on Stanford's football team.
Pick a story, any story.
How about the one where the Cardinal went 1-11 in 2006, achieving the worst record in school history?
That's more of a nightmare, but Pritchard would prefer to talk fairytales.
How about the time he engineered "The Greatest Upset Ever" on Oct. 6, 2007?
The Cardinal trekked to USC as a 41-point underdog, then proceeded to pull off a miraculous 24-23 victory. Pritchard was making his first collegiate start in place of starter T.C. Ostrander, who had suffered a seizure at a restaurant earlier in the week. Pritchard connected with Richard Sherman on a must-have fourth-and-20 play on a final desperation drive. With less than a minute to play, Pritchard hit Mark Bradford for a touchdown to tie the score. Derek Belch's extra point was the game-winner. Pritchard, who threw for 2,865 yards and 15 touchdowns at Stanford, is now a defensive staff assistant after serving as a volunteer coach last season.
"Still being around the Stanford community, a lot of people bring that USC game up," Pritchard said. "It's a good memory. It's one of the signature wins that people look back to. It's fun to think back on the players and the teams we forged. We think of that rebuilding stage, in
general."
Pritchard seemed destined to be a coach. His father, David, was an offensive coordinator at Clover High in Washington, where Pritchard starred under dad's tutelage. Tavita Pritchard was a 7-year-old ball boy when David was offensive coordinator at nearby Centralia High. Tavita chose quarterback because his uncle, Jack Thompson -- known as "The Throwin' Samoan" -- was an All-American quarterback at Washington State.
"I learned tons of football from my dad," Tavita said. "My passion for football comes from my dad. I can remember the days when I was a little guy running around with my jersey hanging down to my knees when I was a ball boy. That's where I gained my passion and it blossomed from there."
While coaching is, obviously, in Pritchard's blood, he's coaching for other reasons.
"It's everything I loved about being a player," Pritchard said. "It's the camaraderie, it's the unity, the one mind trying to accomplish a single goal. I love the strategy behind it. I'm like a little kid up in the office just listening to the coaches talk. I love hearing about football and how all the philosophies come together."