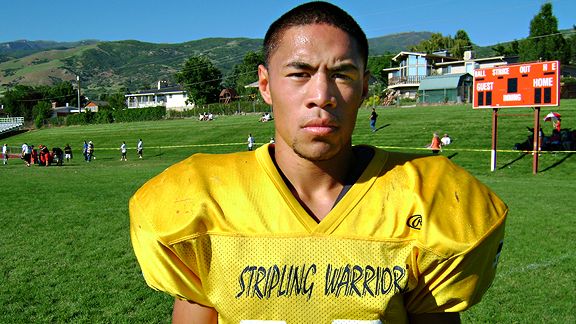 BOUNTIFUL, Utah
-- The final session of the
2009 All-Poly Football Camp
at
Bountiful High
featured live, full-contact scrimmaging and there were several prospects that stood out.
Perhaps none more so on offense than local running back/receiver Tana Afeaki (Salt Lake City, Utah/West), who had a total of four touchdowns and showed outstanding quickness, acceleration and speed with the ball in his hands. He's a slot back-type of player who should be able to help a college team in a variety of ways (out of the backfield, in the slot, in the return game, etc.). Afeaki is not the biggest player on the field, but certainly proved on Saturday he can be downright electric with the ball in his hands.
"I felt I did really well today," Afeaki said with a smile on his face. "I showed what I could do."
Fans around Salt Lake City know all about him. He rushed for more than 1,500 yards for his high school team last season.
Afeaki was one of three running backs honored as a camp all-star by the All-Poly coaching staff, which included multiple college coaches from all divisions. Class of 2010 scat back Silver Vaifanua (Long Beach, Calif./Milliken) and Class of 2011 running back Jeremiah Laufasa (Kirkland, Wash./Juanita) also took home honors.
Deep on the offensive line
There were five offensive linemen who earned all-star honors. Cash Knight (Park City, Utah) and James Atoe (The Dalles, Ore./The Dalles) caught everyone's attention all week and were featured by ESPN's Bill Conley after Friday's sessions. Both expect to gain increased attention from colleges heading into their senior seasons. Both Knight and Atoe performed well in the scrimmages. Knight was especially impressive as a run-blocker.
Billy Vavau (Salt Lake City, Utah/Jordan) also earned all-star honors as an offensive lineman, though he played a good bit of defensive line as well. After seeing him clear out defenders during the scrimmage, it looks like he has more of a future on the offensive side of the ball than defense. But he still could be considered a two-way lineman. Jase Toomalatai (Kahuku, Hawaii/Kahuku) and Paul Bedford (Kapolei, Hawaii/Kapolei) rounded out the five O-linemen who were honored.
Quarterback
Dalton Leilua (Las Vegas, Nev./Desert Pines) is raw, but has a strong arm and good size. He turned in a solid performance and took home all-star honors. Leilua threw for 1,800 yards and 12 touchdowns last season for his high school team, and is getting looks from UNLV and others. Crosby Jensen (Salt Lake City, Utah/Cottonwood) was the other quarterback honored. He threw a touchdown pass in the Saturday scrimmage.
Wide receiver/tight end
Among the receivers and tight ends who were honored as all stars were receivers London Amorin (Honolulu, Hawaii/Island Pacific) and Elijah Mitchell (Las Vegas, Nev./Desert Oasis), and tight end Karl Folland (Bountiful, Utah/Bountiful).
Linebackers
Under Armour All-American V.J. Fehoko (Kahuku, Hawaii/Kahuku), Shaydon Akuna (Kapolei, Hawaii) and Sae Tautu (American Fork, Utah/American Fork) were among the five linebackers honored as all-stars. They were probably the three most impressive prospects at the position.
Fehoko was the best senior at the camp. He has a warrior's mentality, good speed and strength. You can tell he loves football and contact, which is important. He's fun to watch.
Akuna performed admirably during the week with a tweaked hamstring. He made his share of plays in the scrimmage. Once he finds a permanent position to master, he will be a major contributor.
Tautu's showing on Saturday was impressive. He was all over the place and appeared to finally get comfortable with the linebacker position (he was a quarterback and defensive back for his high school team). Tautu is 6-foot-3, 200 pounds, so once he gets coached up more in college and adds strength, he has a chance to be excellent.
"I think I did fine once I settled in at my position," he said. "The coaching I got here was excellent."
Other linebackers honored were Matt Tanuvasa (Beaverton, Ore./South Ridge) and Class of 2011 prospect Cody McCarthy (Boise, Idaho/Bishop Kelly).
Defensive line
Class of 2011 standout Tani Tupou (Kirkland, Wash./Archbishop Murphy) was the best defensive lineman at the event and had a big sack during the scrimmage sessions. He has no offers yet, but multiple schools are showing interest.
Kalafitoni Pole (Union City, Calif./Logan) really helped his stock during the camp. The 6-2, 250-pounder is now getting serious interest from Wyoming and Utah after his showing. He was named an all-star by the coaching staff.
Octavious Dixon (Layton, Utah/Layton) and Class of 2011 standout Viliseni Fauonuku (Bingham, Utah/Bingham) also were named all-stars by the coaches.
Defensive backs
Jeremy Ioane (Punahou, Hawaii/Punahou) was honored as an all-star and was perhaps the best defensive back there. The Class of 2010 prospect had two interceptions during the scrimmages and played for the entire week with a broken arm he suffered at a camp last week. The 6-2, 180-pounder showed good speed and ball skills throughout the sessions. He claims offers from Washington State and Stanford and is getting looks from Utah and Washington, among others.
Cole Graves (Kirkland, Wash./Juanita) also was honored as a camp all-star.
Quick hitters
• The All-Poly Camp will head to American Samoa for the second annual camp there. Last year, more than 400 players showed up for the first camp ever in American Samoa. The following week, the first-ever All-Poly Camp in Hawaii will take place.
• Utah head coach Kyle Whittingham addressed the players following the scrimmages and talked about being fully committed as a football player. Whittingham led the Utes to a 13-0 record last season, including a Sugar Bowl win against Alabama.
• On Friday, Under Armour All-American Bronson Kaufusi showed up at the camp to observe. V.J. Fehoko's older brother, Texas Tech's Sam Fehoko, was there for all three sessions with his family supporting his younger brother.