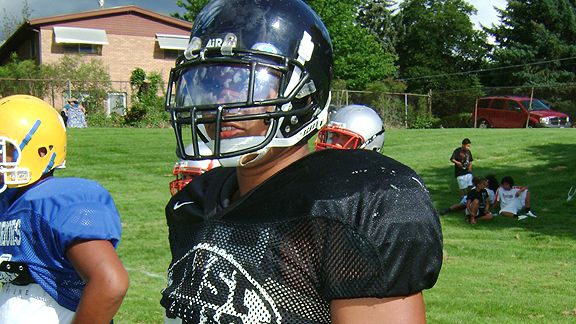 BOUNTIFUL, Utah
--
Under Armour All-American linebacker
V.J. Fehoko
(Kahuku, Hawaii/Kahuku)
was already familiar with the recruiting process before it even began for him.
Fehoko's older brother, Sam, signed with Texas Tech in the Class of 2007. Another brother, Whitley, signed with San Diego State in the Class of 2006.
"When you see the process unfold as a spectator, it's exciting," V.J. Fehoko said. "But when it happens to you, it's sort of a reality check."
Hawaii, Nebraska, Tennessee, Oklahoma State, Utah, Texas Tech, Washington, California, UCLA, Colorado and other schools in the Mountain West and WAC have offered Fehoko a scholarship. Southern California is seriously evaluating the hard-hitting linebacker, as well.
"I have no favorites," he said. "I am giving every school a chance to recruit me."
Fehoko was in Lubbock, Texas, during the spring to watch his brother's spring game and he got an up-close look at the Red Raiders. This caused some speculation that he too would be casting his lot with Mike Leach's program.
"The only reason I was there was to see my brother's spring game," he said. "If he had not been playing for Texas Tech, chances are I would not have been at Texas Tech visiting for that long."
Still, that certainly doesn't mean the Red Raiders aren't under heavy consideration. One of the things that Fehoko is looking at is atmosphere. He says he wants to go to a place where on gameday, the "town stands still" and says that the atmosphere in Lubbock is like that.
"When they beat Texas this past year, they rushed the field like three times," he said.
Most of the Hawaiian prospects that talked recruiting at All-Poly expressed a strong desire to head to the mainland to play college football. V.J. has a lot of teams from the mainland in the mix for his services, but has not ruled out the University of Hawaii, where his father Vili is the unofficial mascot for Warriors football games.
"I am going to give Hawaii a chance," V.J. Fehoko said. "I like Hawaii. Growing up with my dad there, I was always watching the games from the sidelines and I still feel that is home to me when I watch."
Fehoko talked about the things he would be looking for in a program.
"The crucial factor for me is my position coach," he said. "That's key because I will be building a relationship with him and he will be the one developing me for the next 4-5 years. I also would like to have a good relationship with the head coach for that same reason. I want to be in a good environment, too. Not some place where I can get in trouble and I can just focus on football and academics."
Quick hitters
• Class of 2011 defensive lineman Tani Tupou (Everett, Wash./Archbishop Murphy) could be one of the top prospects in the Northwest for his class. Recruiting is in its early stages, but Tupou says that Washington, BYU and Oregon are three schools showing him attention. A key in his recruitment is going to be a school's willingness to let him go on a two-year mission as he is a member of the Church of Jesus Christ of Latter-day Saints.
"It would be good to stay close to home so my family and friends can come see me play and I do like U Dub [Washington]," he said. "I also think they will let me take my mission. I was supposed to visit Oregon last week, but I had a death in the family, but I think they will let me take my mission, as well."
The 6-foot-3, 250-pounder was dominant at times during the camp and should end up with scholarship offers from most schools that recruit the Pacific Northwest.
• Oregon State is the team to beat for linebacker Shaydon Akua (Kapolei, Hawaii/Kapolei). He said during the week that he hopes to visit Corvallis soon and that the Beavers are showing him the most attention. Other schools showing him attention include UCLA, Oregon, Washington, Washington State, Wyoming and Hawaii.
• BYU offered offensive lineman Manu Mulitalo (West Valley City, Utah/Granger) this past week. Mulitalo said he has always pulled for the Cougars growing up and was excited about the offer. BYU also got a commitment earlier in the week from Class of 2011 linebacker Baker Pritchard (Bingham, Utah./Bingham), whose brother Iona Pritchard plays for the Cougars.
BYU has had an offer on table for another Bingham star, running back Harven Langi, since Langi was a freshman. Langi had a 7-on-7 tournament to attend in Provo, Utah, on Saturday, so he was unable to scrimmage, but he was probably the best running back prospect at the three-day event.
• Defensive back Jeremy Ioane (Punahou, Hawaii/Punahou) claims offers from Washington State and Stanford and says that Utah and Washington appear to be close. The 6-2, 180-pounder is tall, fast and athletic and had two interceptions during the scrimmages on Saturday. • Idaho is showing interest in center Kody Afusia (Huntington Beach, Calif./Ocean View). Afusia improved as the camp went on and had several good moments during the scrimmages on Saturday.
• Wyoming has offered offensive lineman/defensive lineman Bill Vavau (Salt Lake City, Utah/Jordan). Utah, Utah State and Oregon also have been showing attention and it would not be a surprise to see the Utes and Aggies jump in with an offer for the 6-3, 275-pounder soon.
• Utah, Wyoming, Oregon and Hawaii all are showing interest in defensive end Niko Uti (Kapolei, Hawaii/Kapolei). The 6-2, 230-pounder performed well during the event.
• Hawaii and Washington State are the two schools showing the most interest in center Jase Toomalatai (Kahuku, Hawaii/Kahuku).