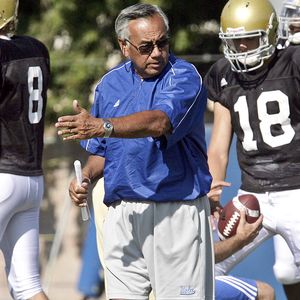 If you just want to cut to the chase, he's
the best offensive coordinator in the history of college football.
In 33 seasons at the collegiate level, Norm Chow has been part of three national championships, guided three Heisman Trophy winners, coached eight of the NCAA's top 30 in career passing efficiency and produced six first-round NFL draft picks at quarterback.
But UCLA's offense stunk last year.
It ranked 116th in the nation in rushing, 111th in total offense, 109th in scoring, 109th in passing efficiency and 110th in sacks allowed.
Bad. Very bad.
The good news for Bruins fans, however, is that it seems almost impossible to imagine things not getting better. A lot better, in fact.
It's hard to bet against Chow, 63. His head coach, Rick Neuheisel, also owns a highly respected offensive mind -- though it often appeared that mind was about to explode as TV cameras zeroed in on his reactions to the offensive foibles last fall.
The question is: What are realistic expectations in 2009?
Improving from bad to merely below average might get the Bruins enough juice to win six games, particularly with a defense that should be very good.
But going from bad to average might boost UCLA back into the top half of the Pac-10.
So we thought nothing of calling Chow during his annual Hawaiian get-away to see what he's thinking this off-season.
Taking a quick look backwards: Is there anything you'd change about how you guys ran the offense last year?
Norm Chow: No. I think we were obviously all disappointed. I'm not so sure there was much else we could have done as far as personnel went. We were down to our third quarterback. We started 10 different combinations on the offensive line. Obviously, we were disappointed we didn't do better with just what we were doing. I don't think we could have made dramatic changes. That wasn't our style. We just didn't play well enough and coach well enough.
Considering how successful you've been running offenses, how tough was it for you watching your players struggle to get much of anything going?
NC: It was hard. But it's not about me. It's about our players and their willingness to work, which they did. They played as hard as they could and they did everything we asked them to do. It just didn't work out. It's not their fault. We as coaches have to take the major part of the blame because we didn't get it done. The guys are working hard now and we're looking forward to everything. We've been together for a year now. Prior to us getting there, the quarterbacks told me that we were their fourth different offensive style of ball in four years. What we called 12, [former coach] Karl Dorrell called 92. You go through that four times and it's hard on young guys. Perhaps we should have gone a little slower. We just didn't do what we should have done.
Obviously Rick Neuheisel, a former UCLA quarterback, is an offensive guy. And he's a hands-on head coach. Did you guys ever butt heads during the season?
NC: Not at all. We have respect for each other. We're both trying to get the same things done. We have very similar ideas about offense. No, it was a joy. This past year, of all the years I've ever coached, was the first time I worked with an offensive coach, an offensive-minded head coach. I've always worked with defensive-minded head coaches, both in college and the NFL. They kind of have a tendency to leave you alone. But Rick was very good about suggestions and thoughts. All you're trying to do is get better. We got along very well. In fact, it was fun. He was a joy to work with. He's a nice guy. He's a fun guy. He's an intense guy. He's perfect for the head coaching position at UCLA.
This spring you guys tapped redshirt freshman Kevin Price the starting quarterback fairly quickly: What about him impressed you?
NC: He's bright. He's strong. He's got a nice arm. He understands the game. He hasn't played for two years. He was hurt [his senior year of high school] and was already committed to the University of Washington when we got here, but we talked him into staying down here. He lives 10 minutes from UCLA and always wanted to go there, but I guess the previous staff didn't really recruit him or whatever. So he's a guy who wants to be there. He wants to be a good player. If we made a mistake, we probably should have played him a little bit last year, but the way the season was going and mid-way through the season when we'd have to make that decision about a redshirt and so forth we decided as a staff it would be best to hold him out. So the negative is he hasn't played for two years. The positive is that he understands the offense after being a part of it for a year and he's ready to explode, I hope.
Prince didn't play well in the scrimmages: Why do you think that was and does that concern you?
NC: No, not at all. Scrimmages are scrimmages -- we don't game plan; we just call plays. The defensive guys are trying to get their work done and you're trying to get your work done, so oftentimes it doesn't match, if you will. But I thought he performed well. He managed the offense. Maybe the numbers weren't like they were supposed to be but I thought he did well in the spring.
Fair to say improved offensive line play is really the key to everything in 2009?
NC: That's always the key. An offensive line is always the key. And not that they didn't perform last year -- it was hard on them. We went through a bunch of injuries and we didn't have any continuity on the offensive line. We had to play young guys at various positions because they were the only guys we had, health-wise and everything else. We did what we had to do and I think those guys worked as hard as they could to help us.
Who do you think is going to step up this fall?
NC: Kevin Prince, first. We had a running back who was academically ineligible [in the spring], Christian Ramirez, and we're expecting big things out of him. We had a tight end that broke his foot on the third play of the very first game [vs. Tennessee] who's got a sixth year going, Logan Paulsen. Our receivers are a year older -- Terrence Austin played well; Taylor Embree played well. We're expecting big years out of them. We had a center who transferred from the University of Colorado, started as a true freshman there and we redshirted him last year, Kai Maiava, so we expect him to take over at center. So we have -- how many did I mention -- five or six guys who didn't play last year who we are expecting to [this year]. That and I hope we have some continuity on the offensive line -- we've brought in a couple of new young freshmen and junior college players who we are counting on. Will the team be different? We hope so. They're a year older, a year wiser. The style will be the same; the calls will be the same. So hopefully there will be some continuity there. We just need to get better.
What's the pecking order at running back? How many guys do you like to use?
NC: The order as we go into the fall will be Christian Ramirez, as I just mentioned, and Derrick Coleman, who had a nice freshman year for us. And then we have another young freshman who we held out, Johnathan Franklin, a redshirt who we are expecting big things of. I would guess two of 'em would get a lot of the carries, but I think they each bring something to the table. Johnathan has a nice career in front of him, a nice future. He's a quick, hard-hitting guy. I think if we get a lot of work out of two, and then the third one, if we need him, if injuries take over or whatever.
In your coaching career, can you recall a year when you had really dramatic improvement from one year to the next -- is there a potential parallel to your situation as to how it might go next year?
NC: Well, the first year at USC [2001] we went 6-6 and got blown up in a bowl game -- Utah blew us up [in the Las Vegas Bowl]. Then the next year -- and the years after that -- USC enjoyed great success. We're hoping history will repeat itself like that. People don't realize that Pete Carroll's first year, with [quarterback] Carson Palmer as a junior, we were 6-6.
[In 2001, USC ranked 94th in the nation in total yards (329 per game) and 61st in scoring offense (26.55 points per game). In 2002, it ranked eighth in total yards (449) and ninth in scoring (35.77).]
Do you expect dramatic improvement on offense this fall?
NC: [Laughs] It's a hard call. I think we're going to hopefully be better. Whether that's good enough, we'll just have to wait and see.