On a biting, drizzly Midwest afternoon, Manti Te'o practiced without a long-sleeve shirt under his football pads. Reading blocking schemes and weather forecasts has become a dual priority for a Hawaii native who is decidedly anti-freeze, so this was a curious sight Tuesday.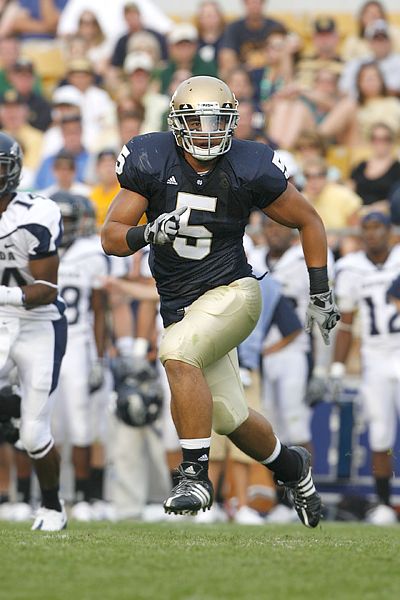 As Notre Dame prepared to face Washington State, that's all it was: curious. Still, you half-expected to hear how the freshman linebacker grew polar fleece on his arms, or used his intensity to self-insulate. Hyper-hyperbole regarding Te'o is epidemic, primarily because he's measuring up to some tall tales.
"He's out there trying to kill everyone he hits," Irish linebacker
Brian Smith
said. "It's a joy to be out there next to him."
Case in point: Where others merely tackle, Manti Te'o gleefully commits felonious assault.
Plainly, since the program's best defensive recruit in years became a full-time starter three games ago, he leads the Irish with 27 tackles in that span, registering nine stops and 2 1/2 tackles-for-loss Saturday against Boston College.
He's thriving because he knows where to direct his explosive 244-pound frame. But that, of course, is far too ordinary a description.
"I don't know how else to say it, but I always used to like linebackers who would run through somebody's face," Irish coach Charlie Weis said. "That's what Manti does."
Or, as linebacker Scott Smith put it: "I think he'd hit anybody in the mouth, any time, anywhere."
That's jarring, too, after listening to Te'o discuss his affection for his little brother and a nagging homesickness, at a register just a notch or two louder than a whisper. So the "speak softly" part, he had down; it was a matter of applying the big sticks.
For that, Te'o had to navigate some mental hiccups. It was apparent from his first tackle -- dragging down Nevada's Colin Kaepernick from behind -- that he played like a deployed torpedo. Uncertainty just had him off-target.
"As a defensive player, the number one thing is being able to pull the trigger," Weis said. "Even when you know what to do, to just let it loose and go. When he first started playing he would be a little hesitant. You would see that momentary pause before he would finish off a play.
"That momentary pause is the difference between making a play and not making a play. Now that momentary pause is starting to vanish. When he sees it, he goes."
Te'o alone isn't a cure-all for a muddled Irish defense. But when he creates a high-impact presence -- like when he decisively terminated a Boston College screen pass in the fourth quarter last weekend -- it is an energy infusion that can't be overstated.
"The last three games, he's doing things he couldn't do early in the season," Irish defensive coordinator Jon Tenuta said. "He just loves to play and make plays."
Full Article