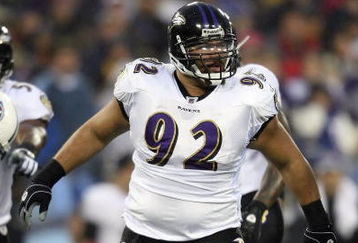 Ravens defensive tackle Haloti Ngata was selected by USA Football and the NFL Players Association to the first "All-Fundamentals" Team.
The group -- selected by a six-person committee that included former NFL head coach and current ESPN analyst Herman Edwards and former general manager and current USA Football chairman Carl Peterson -- includes 26 players honored for their commitment to fundamentals and service in their communities.
Ngata, the only Ravens players on that list, was selected for his footwork and leverage. He received a silver-colored helmet with "All-Fundamentals" listed on the side after practice today and will designate a youth or high school football program to receive a $1,500 equipment grant from USA Football.
"This is pretty cool," Ngata said. "I didn't know I was getting this. This is pretty surprising. But it's a great honor to get something like this. Definitely work hard to work on your fundamentals and technique. It's great that I was able to get noticed."
Defensive coordinator Greg Mattison, who introduced Ngata, sounded like a proud father.
"For a guy to get to be on the 'All-Fundamentals' Team and picked out by USA [Football] and by the National Football League Players Association, to me, might be one of the highest honors you can because that means that a guy who has tremendous talent – which we all know he has and Haloti has as much talent or more than anybody that plays the game – to be picked out as a guy who plays with great fundamentals says everything," Mattison said. "I'm honored to be a part of this guy's world."
For more information on the "All-Fundamentals" Team including the other 25 players and video clips of each player, go to AllFundamentalsTeam.com.
Full Article