Despite a deep draft class at defensive tackle, it's hard to believe Paea would have lasted past the third round. His pure power and explosiveness suggest tremendous upside, even more so when you consider he didn't start playing the game until his senior year of high school.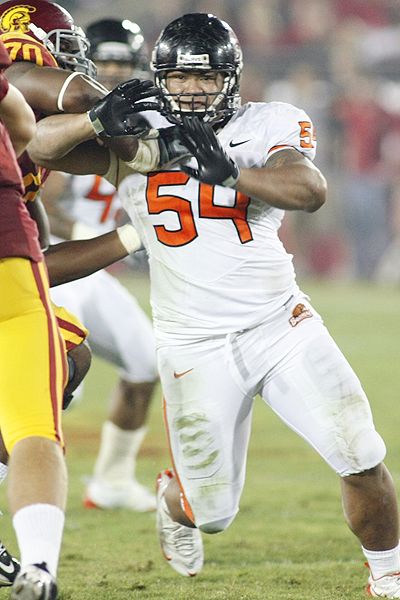 "He is one of the best tackles I've coached at any level," Beavers coach Mike Riley said.
But he opted to come back for his senior season for a variety of reasons.
"I just don't feel it was my turn to go to the league," Paea said. "I feel like I owe Oregon State a favor to come back and finish school. ... If not for Oregon State, I don't think I'd have these honors."
His honors include the Morris Trophy, which is given annually to the Pac-10's top defensive lineman as voted on by opposing offensive linemen.
Paea's numbers are good but won't blow anyone away. Over the past two seasons, he has recorded 19.5 tackles for a loss and eight sacks. But he's faced double-teams much of the time and still managed to be a disruptive force in the middle.
Not that he can't get better. He's been watching film of soon-to-be top-five picks Gerald McCoy and Ndamukong Suh (On Suh: "He's a playmaker. He's a linebacker in a three-point stance.") as well as NFL Hall of Famer John Randall, trying to learn the finer points of playing defensive tackle.
Much of what he needs to do to get better should come just from seeing more action. He arrived at Oregon State after two years of junior college -- one as a redshirt -- but nonetheless broke into the starting lineup.
"I feel like my eyes need to get better," he said. "Sometimes the play is right there but I don't come off the block and make the play. I see how Suh and Gerald McCoy do that. That's their experience."
One things is certain: The now 310-pound Paea will test well at the NFL combine. He was recently captured on YouTube bench pressing
225 pounds 44 times
. The NFL
combine record is 45 repetitions
, which is shared by three players, including former Arkansas offensive lineman Mitch Petrus this year. And the former rugby star is not just a meathead. His quickness is nearly as impressive as his strength. His highlight videos offer many examples of him running down plays.
But Paea said the NFL isn't front and center. The Beavers should again be in the thick of the Rose Bowl race, and he knows that he's a big reason why.
If he produces up to expectations, then he and the Beavers should thrive. And the NFL will be watching.
"I'm going to forget about the league and just play," he said. "Film doesn't lie. I've got to stay hungry and play every play like it's fourth-and-1."
If your not on the Paea Express' , jump aboard before its too late. Oh yeah, did I mention he can sing too?
Full Article