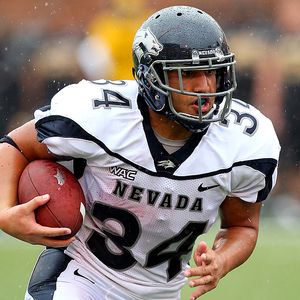 Vai Taua didn't want to spend the holidays with his family last Christmas Eve.
No, it's not that the Nevada Wolf Pack running back was trying to avoid his family back home in Lompoc, Calif., during the holidays. It's just that Taua knew where he belonged.
"It hurt to watch my team (on television) knowing I let them down," Taua said.
Taua wasn't with his Wolf Pack teammates last Dec. 24 in the Hawaii Bowl because he was academically ineligible.
"I put school on the back burner," Taua said.
Pack head coach Chris Ault didn't hide his frustrations with his star running back last winter when the Pack returned from Hawaii. And he still shakes his head when he talks about it.
"What is so upsetting about it is that Vai is a good student," Ault said. "He's almost a B student. He'll graduate in December."
Wolf Pack quarterback Colin Kaepernick also didn't soften his assessment of Taua's mistake. Kaepernick was the only member of the Pack's historic three-member 1,000-yard rushing club last year that played in the bowl game. Taua was home for the holidays and Luke Lippincott was injured.
"He (Taua) has a lot to prove to everyone," Kaepernick told the media last spring. "But everybody on the team is behind him."
Taua says he has learned from his mistake. But the 20-year-old who wasn't allowed to accompany his teammates in Hawaii last Christmas Eve is never far from his thoughts.
"That's something you never forget," Taua said. "It stays with you forever. I don't ever want to go through that again."
Taua says to expect a more mature, seasoned veteran running the ball for the Wolf Pack this season.
"I'm not the young guy anymore," Taua said. "Now I have to be the guy other players look to. I welcome that challenge."
Instead of merely leading the Wolf Pack into the end zone, Taua is determined to lead his young teammates on and off the field this year.
This, after all, is his backfield now. He's the senior running back. He's the one with the most experience. Gone is Lippincott, whose eligibility finally ran out after last season.
"It's definitely a different feeling," said Taua of his senior year. "Luke was the veteran guy the last few years. He was the guy who got the ball when I first came here. I was just the raw talent (who had just 19 carries as a freshman in 2007).
"Luke was a great leader. He helped show me how to do things. Hopefully I can be a leader like that."
There is no question that Taua will carry the load on the field. The 5-foot-10, 220--pounder is already one of the greatest Wolf Pack running backs in history with 2,978 yards and 26 rushing touchdowns.
Chance Kretschmer is fourth in Pack history with 3,782 yards and 35 rushing scores, both numbers easily within Taua's reach this year.
"Vai is a very talented back," Ault said. "He can catch the ball and he can run with it and we'd like to take advantage of that."
Ault has never been shy about taking advantage of Taua's talents. Taua, after all, had 1,345 yards and 12 touchdowns last year in just 11 games. The year before he had 1,521 yards (fourth most in Pack history) and 15 touchdowns.
"Vai is as good as I've ever had upfield," Ault said. "And I've had a lot of good backs. But he's the best when he gets upfield and making the most out of a run. He just has a great presence in the open field."
If healthy and eligible (he also missed a game with an elbow injury last year), Taua is confident the numbers will come. The Wolf Pack, don't forget, was the best rushing team in the nation a year ago with 4,484 yards.
That's not where Taua's focus is right now. His focus this summer is doing everything he can to show that last December was a one-time mistake.
"You have to have leaders," Taua said. "The more leaders you have, the more the younger players learn how to do things the right way. When you are a senior it's important you lead by example because the young people will follow you.
"Now, I'm a senior. This is my time to lead."
Part of leadership, Taua understands, is showing others that you can learn from your mistakes.
"What happened is still a motivating factor for me," Taua said. "It will always be a motivating factor for me. I learned from it and now I can tell others that school has to be first on your mind. Without school, there's no football."
Ault can see the motivation in Taua this summer. The motivation, after all, oozes from Taua's pores each time he touches the ball.
That's why Ault is not worried about his senior running back at all.
"He's doing everything we've asked of him," Ault said. "And we (the coaches) get on him about stuff. We're not letting him get away with anything. He knows what's expected of him. And he's having an outstanding camp."
When Taua speaks of his goals this year, it's all about the team.
"We (the seniors) want to set our legacy here," he said. "We want to win the league, beat Boise State and win our bowl game."
And you certainly can't do that while sitting on your parents' couch in Lompoc.
"I'm more motivated and dedicated than ever," Taua said.
Full Article