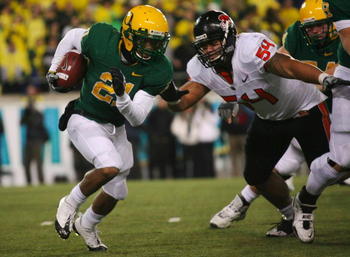 Nice story here
from Cliff Kirkpatrick on how agents tried to lure Oregon State defensive tackle Stephen Paea into the 2010 draft.
From the article:
Agents convinced his parents he could make millions of dollars by leaving school early.

"It didn't bother my parents, it bothered me a lot," Paea said of the constant calls. "I wanted to come back from the beginning. My mom and dad were about money. If I left, it was for that reason only. But there was no reason to leave now."
This is a complicated issue. Just ask former
USC safety Taylor Mays
. My typical position is simple: Leave when the leaving is good. That infuriates fans, but fans only see the jersey of their favorite team. They're not focused on a young man's future.
NFL careers don't last long. Most guys don't cash in on a second contract. That means the most important thing an underclass prospect can look at is his potential draft position: If he's a likely first-rounder, returning for another season doesn't make sense because the guaranteed up-front money is too lucrative to risk with all the variables that come into play with another college season.
Paea's situation, however, is different. His best football is clearly in front of him. Six years ago, he didn't know how to play football. It's not an exaggeration to say his improvement as a player is on a 45 degree ramp since then. The guy who could play himself into the first round of the 2011 NFL draft this season isn't going to be nearly the player he will be in 2013, when he's an NFL All Pro.
Paea's plan for returning this season is sound, starting with the simple fact he wanted to play another year for Oregon State because he's enjoying himself. In terms of a business decision, that's up to him. If he plays hungry, he'll push his way into the first round, which means his decision to return earned him millions more up front than if he were a second-round pick last spring.
Full Article