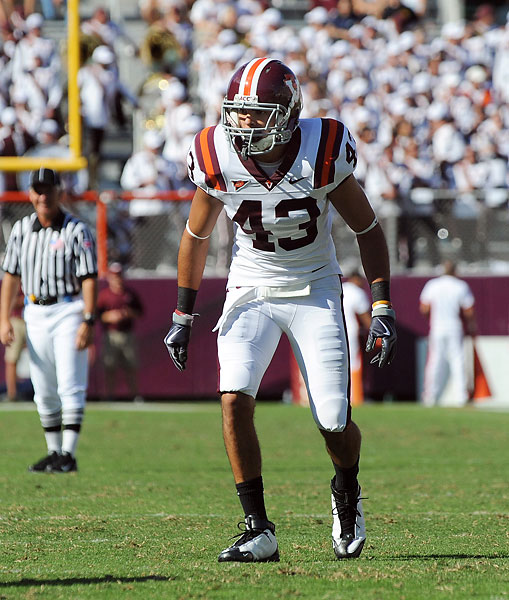 It was a game to remember for the entire Virginia Tech defense, which posted its first shutout since 2006 in Saturday's 19-0 win over Boston College, but there's one Hokies linebacker who likely feels a lot better than the rest of his teammates.
Linebacker Jeron Gouveia-Winslow, an Ashburn native, got the first interception of his career in the third quarter, a turnover that ultimately forced Eagles Coach Frank Spaziani to bench his quarterback, sophomore Dave Shinskie.
It was just one week ago that Gouveia-Winslow, Virginia Tech's starting whip linebacker to begin the season, saw his playing time drop dramatically after a poor performance in the Hokies' shocking upset loss against James Madison. He played just nine defensive snaps in Virginia Tech's 49-27 win over East Carolina.
Then in the second quarter Saturday, Gouveia-Winslow was beaten badly on a play action fake that resulted in a 27-yard completion to Boston College wide receiver Clyde Lee.
"The interception definitely brought my spirits up and got me through the second half," Gouveia-Winslow said. "Obviously after the JMU game, my performance wasn't what it should be ... but I never really got down. I took it as more momentum to get better."
Full Article