Standing inside Heritage Hall on the campus of USC, waiting for his soon-to-be coach, Lofa Tatupu rocked nervously from one foot to the other.
He had waited years for this moment, without any certainty it would arrive. Now he stood in the same place his father, Mosi, once stood, anticipating the arrival of Trojans coach Pete Carroll.
A door opened and Carroll practically bounded toward Tatupu, hand outstretched.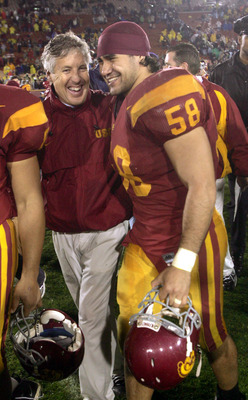 "He came in and shook my hand and said, 'Congratulations, you're a Trojan,' " Tatupu said after a recent Seahawks practice. "It's still one of the best days of my life. It was a feeling of disbelief. I didn't expect a scholarship. I just wanted the opportunity to play."
Coming out of King Philip High in Wrentham, Lofa Tatupu wanted more.
He wanted what his father had. He wanted Saturday afternoons in the fall with 80,000 people cheering him. He wanted a chance to play for national championships. He wanted to be seen and, most important, he wanted to play against the best.
"I wanted to play in front of big crowds, not just the 10,000 or so we got at Maine," Tatupu said. "The NFL? Well, I wasn't sure about that."
Tatupu was considered too small for the big time, a recurring theme in his life. He was maybe 215 pounds. And almost no major schools showed an interest.
"I wasn't 6 feet tall, so everyone looked at my films and said, 'He isn't tall enough.' Even my father told me I was small," Tatupu said. "He didn't want me to get discouraged by it.
"He kind of let me be and let me find my own way. But he knew how determined I was and he knew I wasn't going to listen to what people were saying."
After getting ignored by the big schools, not to mention a lot of smaller schools, Tatupu went to the only place that offered him a scholarship, the University of Maine.
But he never stopped dreaming big.
He looked at other small linebackers who made it in the NFL - Dat Nguyen, Dexter Coakley, London Fletcher - and got inspiration from them.
"I'm the same size as them and I looked at them and tried to figure out what separates them," Tatupu said, "and it's their mental capacity for this game. So I tried to study as much film as I could and put myself on their level in the classroom and tried to get an edge somehow. I still do. I wasn't the prototype, but the best athlete isn't always the best football player."
Mosi Tatupu, who died last February, starred as a fullback at USC, then played 13 seasons with the
Patriots
[team stats]
. Mosi got those Saturday afternoons his son desperately wanted. He got that recognition.
And even though he had his doubts, Mosi worked so his son could have those same chances, that same career. He put together a highlight tape from Lofa's freshman season at Maine and, unbeknownst to his son, sent the tape to Carroll and to then-USC linebacker coach Nick Holt.
Holt loved what he saw on tape, then took the tape to Carroll and said, "We need to look at this guy."
Mosi also called Carroll. And he called Carroll again and again.
"At the time we were really scrapping for players," Carroll said. "On the tape Mosi sent us, Lofa didn't start in any of the games, but when he got in, he made almost every tackle. We couldn't tell how fast he was. We only knew he was making a bunch of plays.
"We were hoping we could pull the trigger for Mosi, because we love him and all of that, but when we saw how small Lofa was we thought, 'Oh boy.' But we had scholarships, so we said, 'Let's just do it.' I just hoped it was going to work out. Knowing the history and knowing how loved his father was, we knew how big a deal it was for Lofa, but we had no idea what we were getting."
At worst, Carroll figured, he was doing a favor for a former Trojan. At best, well he got the best. He got a defensive leader in the middle of the football field.
"He just had this marvelous savvy," Carroll said. "We fell in love with him and he became a great player. He was one of the best linebackers who ever played there.
"He learned very, very quickly. He made sense of stuff. He was just a natural at playing the position, just as he's been here. I'm thrilled we gave him that scholarship. Not just for Lofa, but for Mosi too. I know how proud Mosi was of him."
Tatupu redshirted in 2002, his first season at USC.
"He did a phenomenal job on the service team," Holt said. "But we knew as soon as he started practicing that he was going to be a good player. He just had it. He understands football."
Now after five NFL seasons and three Pro Bowl invitations, Tatupu has been reunited with his college coach. Today against San Francisco will be their first game together as player and coach in an NFL regular season.
"He's absolutely the same guy that I had down there and it's refreshing to know that it wasn't just an act," said Tatupu. "To have him back up here is fun.
"He still has his way of doing things. He keeps it light. Everybody here is having fun. It's good to see that it wasn't just an act. It wasn't just for college. He knows how to win."
And Tatupu, who left USC with one season of eligibility remaining, is the same player he was at USC, only now he weighs 250 pounds.
"He's made the same transition here that he made from Maine to SC," Carroll said. "When he was deciding whether to stay (at USC), I was battling for him to stay. I thought nobody would know about him. The buildup wasn't there for it. But he told me, 'I know I can do it.' "
Tatupu was asked last week if he thought he still owed Carroll for taking the chance and offering him a scholarship. He smiled.
"I was very appreciative of the opportunity," said Tatupu, Seattle's second-round pick in 2005. "Definitely some things had to go my way to get to where I am now and it started with that scholarship. But I also like to think I had a hand in helping Pete win those two national titles."
In other words, Tatupu has paid his debt to Carroll, something his once-and-future coach readily acknowledges.
"He was a great Trojan," Carroll said.
Full Article